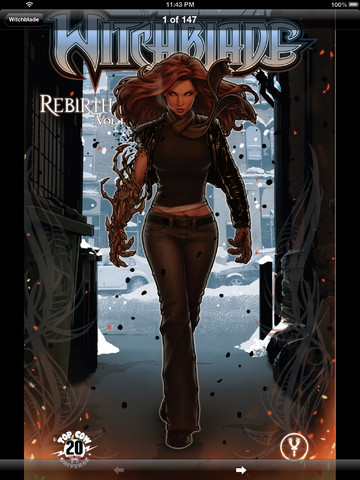 Free Comic Book Day is all about enticing customers into brick-and-mortar comics stores with the promise of—you guessed it—free comics, in hopes that they will like the freebies enough to come back and spend some money.
Digital comics providers do that as well. This weekend, Comic Bin is inviting comics fans to sample its service for free. Comic Bin works like the Marvel Unlimited service: For a monthly fee of $8.99, you can read any comic you like. It's an all-you-can-eat deal with an admittedly limited buffet, because there are only a handful of publishers who participate and most of them have only a handful of books. Nonetheless, those handfuls add up, and Comic Bin is offering 700 free comics altogether (hmm, that number seems familiar) so this is the time to get in there and see if it matches your tastes.
Comic Bin offers a free membership, and with that you can read an eclectic selection of Golden Age comics, such as Phantom Lady, Yellowjacket Comics, and Our Flagg Comics.
The $8.99 subscription fee, which is waived for this weekend, opens up the contemporary publishers: Top Cow, Bluewater, 215 Ink, Alterna, Arcana, Northwest Press, and others. If you've been hankering to read Bluewater's Honey Boo Boo bio-comic, or the first issue of Witchblade, this is your moment. The free-comics offer lasts through Sunday, May 5, so you have time to go to the comics store as well.
Comic Bin is a streaming service, so you have to have an internet connection to use either the standard browser-based service or the iOS app. I tested the reader in my Chrome browser and it worked pretty well, but the comic was larger than the browser frame so I had to scroll up and down to read it. I couldn't make either the full-screen or the panel-by-panel view work on the comics I checked, but the comic appears large enough in the browser that panel-by-panel isn't really necessary. It's possible that someone with a larger screen (mine is 15″) would be able to read the comic without a hiccup. Social-networking tools are tucked in at the bottom of the browser so they are unobtrusive but handy when you need them.
Anyway, now is the time to find out. Check out Comic Bin while it's free and see whether you'll miss it enough to want to pay for it on Monday morning.
A former book editor and newspaper reporter, Brigid Alverson started MangaBlog to keep track of her daughters¹ reading habits and now covers comics and graphic novels for Comic Book Resources , School Library Journal, Publishers Weekly Comics World, Robot 6, and MTV Geek. She also edits the Good Comics for Kids blog at School Library Journal. Brigid was a judge for the 2012 Eisner Awards. Send her an email to wordballoons@gmail.com