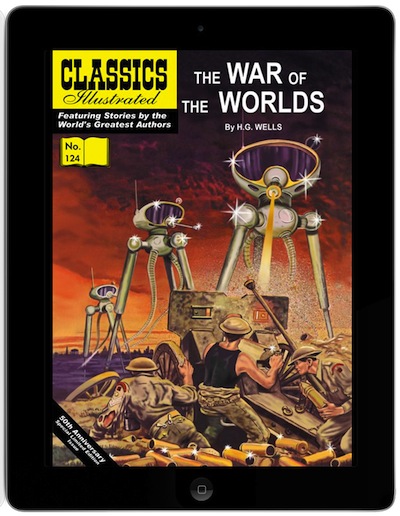 ComiXology continues its march toward world domination by adding Classics Illustrated comics to its lineup. The first 15 issues went live today, and soon comiXology will have the full lineup of 120 issues. Classics Illustrated comics have actually been available digitally for some time via Nook, but interestingly, comiXology is pricing them a dollar cheaper, at $3.99 instead of the Nook price of $4.99 for most comics (Classics Illustrated Junior titles are $1.99 on both platforms). Both the comiXology and the Nook deals are partnerships with Trajectory, Inc., which bills itself as a "global eBook production and distribution platform."
Launched in 1941 under the name "Classic Comics" (the name was changed in 1947), Classics Illustrated was one of those earnest efforts to get children to read "good literature" by starting them off with comics and hoping they continue in that direction. The problem, of course, is that the (relatively) action-packed comics versions of The Last of the Mohicans or Gulliver's Travels are a lot more palatable to a ten-year-old than the dense prose of James Fenimore Cooper or the 18th-century satire of Jonathan Swift. I myself, although a big reader, had a lot of trouble making the transition, but when I did read the originals, later in life, the mental pictures I carried with me were all formed by the artists of Classics Illustrated. I was also surprised at how much longer the originals were than the comics, which were severely constrained by their 48-page format.
The last comic in the original run of the series was Faust, which was published in 1962, but the comics didn't go away. In the 1990s, First Comics bought the rights to the line and published a slew of new comics by noted artists such as Gahan Wilson and Peter Kuper. Then in the 2000s, things got even more confusing, as Papercutz picked up some of the First titles and also commissioned more new comics, plus they are publishing some French adaptations of classic titles as well. (What would Mark Twain say about a French-produced, manga-influenced graphic novel adaptation of Tom Sawyer?) Meanwhile, the Canadian publisher Jack Lake reprinted some of the original comics, especially in the Classics Illustrated Junior line.
ComiXology brings us back to the basics with the original Classics Illustrated and Classics Illustrated Junior comics, digitally restored and ready to read.
A former book editor and newspaper reporter, Brigid Alverson started MangaBlog to keep track of her daughters¹ reading habits and now covers comics and graphic novels for Comic Book Resources , School Library Journal, Publishers Weekly Comics World, Robot 6, and MTV Geek. She also edits the Good Comics for Kids blog at School Library Journal. Brigid was a judge for the 2012 Eisner Awards. Send her an email to wordballoons@gmail.com