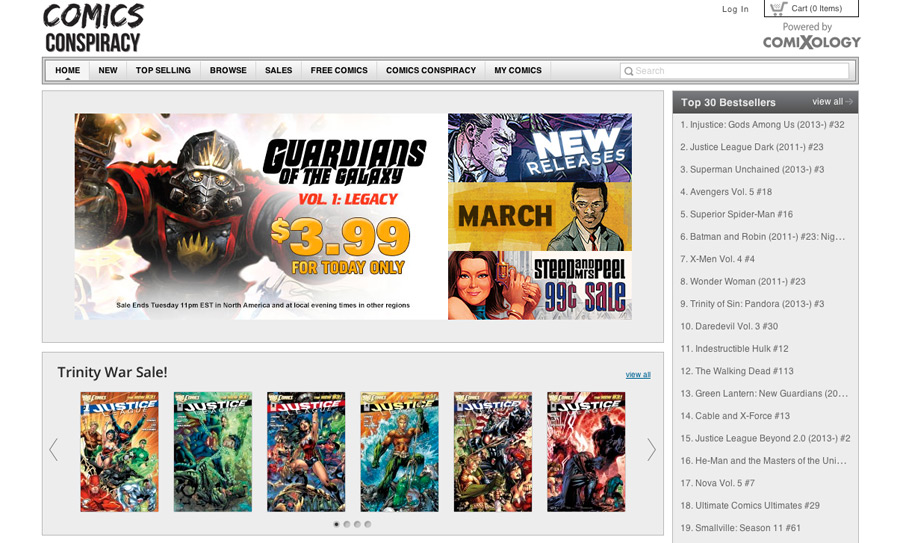 I was laid low by a bout of the flu when the news came out two weeks ago that comiXology has converted its retailer storefronts to HTLM5, so I didn't think too much about it. But it is kind of a big deal, because it reinforces the broad base of comiXology's business.
If you think of comiXology as the guys who make the Comics app that you use to read and buy comics, you're missing part of the story. Before there was an iPad, comiXology was out there with a service that allowed readers to create digital pull lists. While Diamond has yet to put the full Previews catalog online, comiXology has full solicit information on all upcoming comics on their website. That makes it easier to buy print comics at a retail shop as well as digital comics online.
ComiXology started offering digital storefronts to retailers two years ago. When a user buys a comic through the storefront, the retailer gets a cut of the sale—and the customer can read it on comiXology's Comics app alongside all his or her other comics. The idea is that digital readers who are loyal to their local comic shop can support it by buying their digital comics through their retailer's digital storefront. Some readers like to buy both the print and the digital version of a comic, while others might want to buy digital comics to fill in back issues they can't find in print.
The most recent news is that the digital storefronts have been retooled to be HTML5 compliant, which means that readers can now visit their retailer's storefront on their mobile devices; I believe the previous version was Flash-based so it didn't work on iOS devices. It's a little surprising that Apple allows this, actually; comiXology has to fork over a percentage of its in-app purchases that go through iTunes, but my understanding is they don't have to share sales that go through their website, although of course they do give a percentage to the retailer.
At any rate, the retailer storefront program must be working pretty well if comiXology is still investing in it, which means that both sides must be making money. It also shows comiXology's continuing commitment to serving brick-and-mortar comics shops.
A former book editor and newspaper reporter, Brigid Alverson started MangaBlog to keep track of her daughters¹ reading habits and now covers comics and graphic novels for Comic Book Resources , School Library Journal, Publishers Weekly Comics World, Robot 6, and MTV Geek. She also edits the Good Comics for Kids blog at School Library Journal. Brigid was a judge for the 2012 Eisner Awards. Send her an email to wordballoons@gmail.com