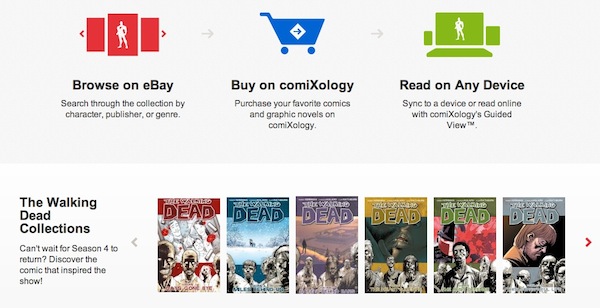 Just when you thought there were no new worlds for comiXology to conquer, they show up on a new platform: eBay.
Up till now, eBay has been pretty much a place where you buy physical goods; they allowed sales of a few categories of digital items, but with plenty of restrictions (including the rather odd requirement that ebooks listed in categories other than "Everything Else" have to be sent to the buyer via postal mail).
On December 5, though, they launched eBay Digital Comics, which really looks like a storefront for comiXology: eBay users can look through a selection of comics on the eBay site, but when they pick a comic they are immediately transported to comiXology for the actual purchase. Buyers must have a comiXology account—they can't buy the comics with their eBay login—and once they buy the comic they can read it in the comiXology apps or on the comiXology website.
Everyone is in business to make money, so it makes sense to look at the costs and benefits to eBay. The risk, it would seem, is the same one that comics shops worry about: That digital sales will cannibalize print sales. Since eBay has dealt only in hard copies right now, that's a reasonable concern. On the other hand, there is money to be made in digital comics. But with comiXology handling the sales, how would that work? Presumably eBay is getting a cut of sales, as it would if it were a brick-and-mortar retailer using a comiXology digital storefront.
The current setup is a little puzzling, though, because the digital comics only seem to appear in eBay's dedicated digital comics storefront. One reason to put comics on eBay is because it's a site that a huge number of people visit and browse every day. But the comics seem to be in only one place; they don't come up in searches on titles like "Guardians of the Galaxy," and even adding "digital comic" to the search terms doesn't bring up the comiXology comics. That does reduce the risk of digital sales detracting from hard-copy sales, but at the same time it reduces the likelihood of digital sales as well.
The storefront itself seems to have a limited number of comics, including The Walking Dead, X-Men, some collected editions, and this week's new comics. Publishers represented include Marvel, BOOM! Studios, IDW, and Image. I didn't see any DC comics or collections there.
Right now, though, this looks like like comics without a country. If the digital comics don't show up in product searches, the vast eBay-using public won't run across them. Users can got to the digital storefront, but if they are going to do that, they might as well go to the comiXology storefront. The comics aren't any cheaper on eBay (alas!), there's an extra login involved, and the standard eBay safeguards and mechanisms aren't there, because readers are actually buying the comics via comiXology, not eBay.
It's early days yet, so maybe these things will change. Leena Rao of TechCrunch says this is a limited beta test, so maybe we will see the digital comics service become better integrated into eBay. If that happens, it could be a powerful tool, bringing potentially millions of new readers to digital comics.