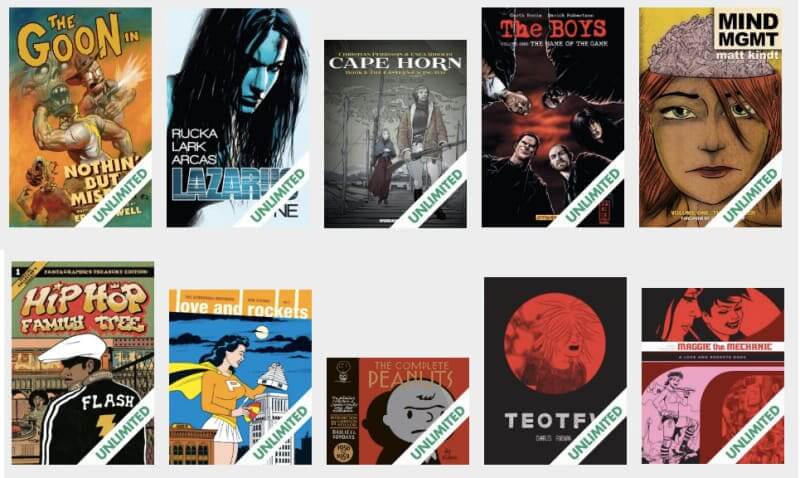 Comixology has just launched a new digital comic subscription service. You can pay $5.99 per month for access to a selection of comics and graphic novels.
There are a multitude of publishers that are taking part in this new initiative, such as Image Comics, Dark Horse Comics, IDW Publishing, BOOM! Studios, Dynamite Entertainment, Kodansha Comics, Oni Press, Valiant Entertainment, Archie Comics, Fantagraphics Books, Humanoids, Action Lab Entertainment, Aspen Comics, Zenescope Entertainment and more.
Marvel is noticeably absent from taking part in this new program, mainly because they run their own service called Marvel Unlimited. DC is also not participating and they have yet to develop their own solution.
It is important to note that you will not find comics that just hit the shelves included in Comixology Unlimited. It will mainly feature older comics or first editions that will hopefully hook customers on a franchise and get them buying new comics as they come out.
Here is a list of titles that will initially be available.
Adventure Time by Ryan North, Braden Lamb, Shelli Paroline and various (BOOM! Studios)
Aliens by Mark Verheiden, Sam Kieth, Peter Milligan and various (Dark Horse Comics)
Archie by Mark Waid and Fiona Staples (Archie Comics)
Attack on Titan by Hajime Isayama (Kodansha Comics)
Atomic Robo by Brian Clevinger and Scott Wegener (Tesladyne)
Bitch Planet by Kelly Sue DeConnick and Valentine De Landro (Image Comics)
Bloodshot by Duane Swierczynski, Manuel Garcia and Arturo Lozzi (Valiant Entertainment)
The Boys by Garth Ennis and Darick Robertson (Dynamite Entertainment)
Buffy the Vampire Slayer by Joss Whedon and various (Dark Horse Comics)
Chew by John Layman and Rob Guillory (Image Comics)
The Complete Peanuts by Charles Schulz (Fantagraphics Books)
Conan the Barbarian by Brian Wood and Becky Cloonan (Dark Horse Comics)
Fairy Tail by Hiro Mashima (Kodansha Comics)
Fatale by Ed Brubaker and Sean Phillips (Image Comics)
Ghostbusters by Erik Burnham, Dan Schoening, and various (IDW Publishing)
G.I. Joe by Chuck Dixon, Robert Atkins and various (IDW Publishing)
Grimm Fairy Tales by Ralph Tedesco, Joe Tyler and various (Zenescope Entertainment)
Godzilla by Duane Swierczynski, Arthur Adams, Simon Gane and various (IDW Publishing)
Hellboy by Mike Mignola (Dark Horse Comics)
Hip Hop Family Tree by Ed Piskor (Fantagraphics Books)
The Incal by Alexandro Jodorowsky and Moebius (Humanoids)
Lazarus by Greg Rucka and Michael Lark (Image Comics)
Letter 44 by Charles Soule and Alberto Alburquerque (Oni Press)
Lone Wolf and Cub by Kazuo Koike and Goseki Kojima (Dark Horse Comics)
Love and Rockets by Jaime and Gilbert Hernandez (Fantagraphics Books)
Locke & Key by Joe Hill and Gabriel Rodriguez (IDW Publishing)
Lumberjanes by Shannon Watters, Grace Ellis, Noelle Stevenson and Brooke Allen (BOOM! Studios)
My Little Pony by Katie Cook and Andy Price (IDW Publishing)
Outcast by Robert Kirkman and Paul Azaceta (Image Comics)
Pretty Deadly by Kelly Sue DeConnick and Emma Rios (Image Comics)
Princeless by Jeremy Whitley and various (Action Lab Entertainment)
Red Sonja by by Gail Simone, Jenny Frison, and Walter Geovanni (Dynamite Entertainment)
Saga by Brian K. Vaughan and Fiona Staples (Image Comics)
Serenity by Joss Whedon, Brett Matthews and Will Conrad (Dark Horse Comics)
Scott Pilgrim by Bryan Lee O'Malley (Oni Press)
Sex Criminals by Matt Fraction and Chip Zdarsky (Image Comics)
Spawn by Todd McFarlane (Image Comics)
Star Trek by Mike Johnson, Stephen Molnar, Joe Corroney and various (IDW Publishing)
Poorcraft: The Funnybook Fundamentals of Living Well on Less by C. Spike Trotman and (Iron Circus Comics)
Transformers by John Barber, Andrew Griffith, Marcelo Matere and various (IDW Publishing)
The Umbrella Academy by Gerard Way and Gabriel Bá (Dark Horse Comics)
Usagi Yojimbo by Stan Sakai (Dark Horse Comics)
The Walking Dead by Robert Kirkman, Tony Moore and Charlie Adlard (Image Comics)
The Wicked + The Divine by Kieron Gillen and Jamie McKelvie (Image Comics)
Wonderland by Raven Gregory and Sheldon Goh (Zenescope Entertainment)
Wuvable Oaf by Ed Luce (Fantagraphics)
X-O Manowar by Robert Venditti and Cary Nord(Valiant Entertainment)
Here is a list of the manga and graphic novels that are available