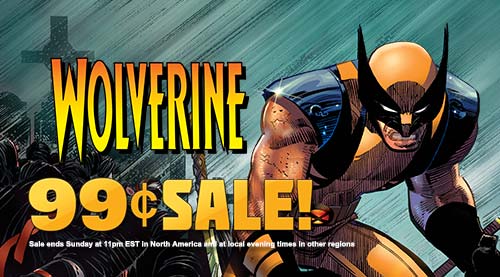 Comic-Con is over for another year, and the comics industry is in its customary post-San Diego swoon. News will probably be slow for a while, but it's a great time to read comics, so let's take a look at this weekend's digital deals. Most of these end Sunday evening; check the links for more information.
ComiXology kicks it off with three sales: All Wolverine comics are marked down to 99 cents, so you can catch up before going to see the movie, which opened today. In the mood for something lighter? They have also marked down a handful of Betty and Veronica comics and graphic novels, although a lot of these were priced low to begin with, so not everything is discounted. And if you read French, this your lucky fin de semaine: They have marked down a healthy handful of French-language comics to 99 cents each.
Dark Horse has slashed prices on its Mass Effect comics. Single issues, usually priced at $2.99, are just 99 cents and the bundles are an even better deal. Dark Horse has published a number of mini-series and single issues that tie in with the storyline of the video game, so this is a good opportunity for gamers to get more deeply into the Mass Effect story.
I'm not sure if Amazon's Wolverine graphic novels on Kindle are discounted from their usual prices, as Amazon doesn't make that easy to see, but they do seem to be priced well below the print editions, so give that a look if you want even more Wolverine. They have definitely marked down their Deadpool graphic novels for Kindle, though, to $2.99-$3.99 for a limited time only, so go check those out.
And finally, this is the last weekend to save on a one-year subscription to Shonen Jump, Viz's digital manga magazine; the price has been marked down from $25.99 to $19.99 with a special code (it's at the link), but the sale ends Sunday evening.
A former book editor and newspaper reporter, Brigid Alverson started MangaBlog to keep track of her daughters¹ reading habits and now covers comics and graphic novels for Comic Book Resources , School Library Journal, Publishers Weekly Comics World, Robot 6, and MTV Geek. She also edits the Good Comics for Kids blog at School Library Journal. Brigid was a judge for the 2012 Eisner Awards. Send her an email to wordballoons@gmail.com