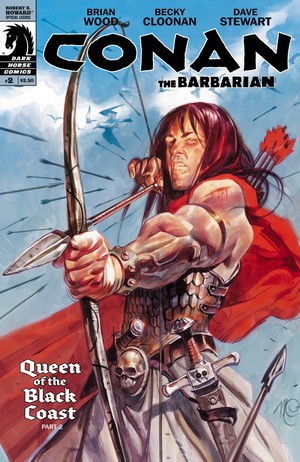 ComiXology has two 99-cent sales going this weekend, on Mark Millar's Kick-Ass and Marvel's Ultimates line. If you're curious about Brian Michael Bendis's re-invention of Spider-Man as half-black, half-Latino teenager Miles Morales, now is the time to dive in.
If you're up for a more classic type of adventure tale, Dark Horse has a 99-cent sale on Conan and Red Sonja comics. The Conan comics are the ones written by Brian Wood and illustrated by Becky Cloonan and James Harren, which got a lot of buzz last year, and they are well worth a look.
Digital Manga is celebrating Tezuka Week with 15% off the cost of the first ten issues of Astro Boy Magazine, as well as giveaways and other promotions. That makes each issue of Astro Boy Magazine $4.24, but be warned, it's not downloadable—you can only read it online.
And finally, don't forget that Viz is still having their big sale on all their digital manga. Check out their website or apps and take a look—everything is 20% off.
A former book editor and newspaper reporter, Brigid Alverson started MangaBlog to keep track of her daughters¹ reading habits and now covers comics and graphic novels for Comic Book Resources , School Library Journal, Publishers Weekly Comics World, Robot 6, and MTV Geek. She also edits the Good Comics for Kids blog at School Library Journal. Brigid was a judge for the 2012 Eisner Awards. Send her an email to wordballoons@gmail.com