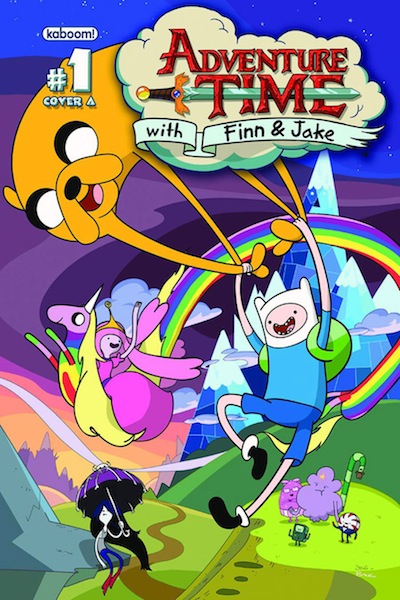 It's Friday the 13th, a good day to stay indoors and read digital comics! And we have some bargains to help you avoid the bad luck that inevitably comes with an empty wallet.
ComiXology has a bunch of 99-cent sales this weekend, catering to a variety of tastes. My first choice would be the all-ages Adventure Time and Bravest Warriors comics. Adventure Time took home honors in both the Harvey and the Eisner awards this year, so the creators must know what they are doing. These are comics that children and adults can both read and enjoy; they'll just be laughing at different things. The sale runs through September 16.
If you're in the mood for something a bit grimmer, check out the Forever Evil sale. This is a bit of a misnomer, as it doesn't include the comic Forever Evil—that's full price, as it just came out this week. However, there's plenty of evil to be had in these comics, which feature bad people doing bad things in titles like Arkham Asylum, Final Crisis, Secret Six, and Villains United. This sale runs through Sunday evening.
Want something not too light, not too dark? Try out the Spider-Men sale, with 99-cent issues of Spider-Men, Scarlet Spider, and Spider-Man: Reign. Don't delay, though, as that sale ends today at 11 p.m.
And finally, comiXology has the first volume of Annihilation marked down from $8.99 to $3.99, for this weekend only.
Dark Horse is celebrating Friday the 13th with a sale on horror titles, including Colder, Ex Sanguine, and To Hell You Ride. Not sure where to start? Try their free Horror Sampler, featuring excerpts from nine different horror titles.
Digital Manga's eManga site is enticing readers to change over to their service with the September Switch promotion: Create a new account at eManga and send them proof that you have purchased a book from another digital retailer, such as Amazon, and they will send you a gift code for a free eManga book, up to $7.95. The offer is good till October 13. If you're already a subscriber, comics aren't on sale this week but their prose novel sale is still going on.

A former book editor and newspaper reporter, Brigid Alverson started MangaBlog to keep track of her daughters¹ reading habits and now covers comics and graphic novels for Comic Book Resources , School Library Journal, Publishers Weekly Comics World, Robot 6, and MTV Geek. She also edits the Good Comics for Kids blog at School Library Journal. Brigid was a judge for the 2012 Eisner Awards. Send her an email to wordballoons@gmail.com