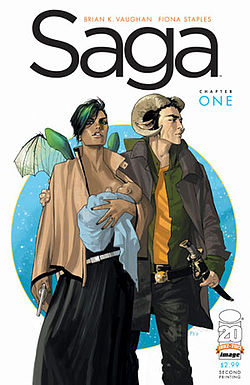 The retailing newsletter ICv2 has just published its initial summary of comics and graphic novel sales for the past year and the picture looks good.
Overall, print and digital comics sales totaled $750 million, up 13% from the previous year. Digital comics sales almost tripled, going from $25 million in 2011 to $70 million in 2012. This is purely an estimate, as publishers and digital comics distributors don't release sales figures, but ICv2 editor-in-chief Milton Greipp sits on the board of directors of comiXology, the largest digital comics distributor, so he probably has a pretty good idea of what's going on.
Greipp estimates that digital sales amount to 9% of the total market, a much bigger slice than last year, but as both print and digital sales continue to grow, it seems that digital comics are not "cannibalizing" the print market.
Here's another inside look: Speaking about his comic Saga, drawn by Fiona Staples, Brian K. Vaughan said "I don't know if creators at other companies are privy to exactly how many digital copies their books are selling these days, but the statements Fiona and I get from Image are pretty staggering. I realize that's not true for every book, but the day when many titles start selling more digital copies than print copies is not years away, it's months away."
Saga is one of the top-selling comics in both print and digital, and Vaughan's believes that the digital medium is bringing in new readers, just as the newsstands did in the olden days.
A former book editor and newspaper reporter, Brigid Alverson started MangaBlog to keep track of her daughters¹ reading habits and now covers comics and graphic novels for Comic Book Resources , School Library Journal, Publishers Weekly Comics World, Robot 6, and MTV Geek. She also edits the Good Comics for Kids blog at School Library Journal. Brigid was a judge for the 2012 Eisner Awards. Send her an email to wordballoons@gmail.com