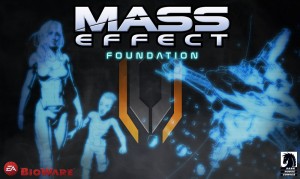 One of the big announcements to come out of this past weekend's Emerald City Comic Con is that Dark Horse will publish Mass Effect: Foundation, a new series based on the BioWare game Mass Effect. Although Dark Horse has published several Mass Effect miniseries, this will be the first ongoing comics series set in the world of the game. In terms of content, it will tie in directly with the characters in the Mass Effect: Citadel downloadable content pack that will be released on March 5.
The writer for the new comic will be Mac Walters, who was a contributor to Mass Effect 2 and the lead writer for Mass Effect 3. Walters has also written four Mass Effect miniseries for Dark Horse. The new series will launch in July and will be available in digital, via the Dark Horse Digital service, the same day as print.
Dark Horse revealed that Mass Effect: Foundation will feature a strong female character, and Walters told Steve Sunu of Comic Book Resources that in this case, the character really originated with the comics rather than the game. There's a difference in the storytelling, Walters says: While characters in the game are all seen through the eyes of the main character, Commander Shepard, the characters in the comics stand on their own. "A lot of these [comics] tell a story that's a little more personal, a little more intimate for them and allows you to delve a little deeper into the character and how they would react in a specific situation, as opposed to the game, they may have to tell you how they'd react to a situation or how they reacted to situations in the past," explained Walters.
The first issue of the new series will be available in July, and in the meantime, the earlier miniseries, as well as a Mass Effect art book, are available in the Dark Horse Digital Store.
A former book editor and newspaper reporter, Brigid Alverson started MangaBlog to keep track of her daughters¹ reading habits and now covers comics and graphic novels for Comic Book Resources , School Library Journal, Publishers Weekly Comics World, Robot 6, and MTV Geek. She also edits the Good Comics for Kids blog at School Library Journal. Brigid was a judge for the 2012 Eisner Awards. Send her an email to wordballoons@gmail.com