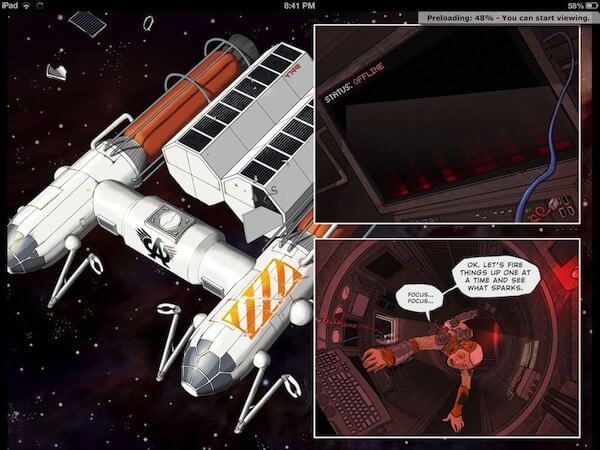 Reading Relaunch, the digital comic by Ron Perazza and Daniel Govar, is a very different experience from reading a comic printed on mere paper. With each click or swipe, several page elements change at once: The spaceship rotates, the woman floating inside the spaceship shifts a bit in response, and her computer screen's display refreshes. It sounds a bit clumsy when describing all three things happening at once, but onscreen it's fluid and natural. It's also demanding. Instead of focusing on one panel at a time, the reader must take in the whole screen, noting how the elements change with each transition. The experience is more like looking at a dashboard than reading a page from left to right.
"We are trying to push digital comics further," said Govar, "to explore what they could be, not what they are."
"We're interested in digital storytelling and making comics designed specifically for digital readers—going beyond simply distributing print comics digitally," added Perrazza.
If this is one step toward a new storytelling paradigm, the way the comic is presented is another. Perazza and Govar have created the Yanapax viewer, a free, open-source comics viewer that can be used on the web or iPad, and they welcome other creators to try it as well.
Both creators bring considerable digital-comics experience to the table. As a vice president at DC, Perazza was responsible for planning and building Zuda, DC's webcomics site. Once it was up and running he became the editorial director. Zuda was run as a monthly competition, and Govar was one of the winners with his comic Azure.
Govar and Perazza's current home base is Comic Book Think Tank, which houses Relaunch. "I think of Comic Book Think Tank as our digital comics playground," said Govar. "When we started talking about the direction digital comics have been going—with comics being locked into apps in order to do anything innovative, or to be tied to a third-party plugin like Flash—it just seems like it is very daunting to creators."
"Right," said Perrazza. "So along the way we figured we'd try put some of these things that we were talking about into practice and just see what happened. The result was Relaunch and then, shortly after, Comic Book Think Tank. The idea there being to share everything we were doing; the comics, the thinking behind them, the goals, the approach, and so on."
Perrazza and Govar are doing that via a blog in which they talk about the way different aspects of Relaunch were developed.
How does Comic Book Think Tank differ from all the other digital comics sites that are springing up all over? "Well, for starters, it's all free," Govar said. "Also, the tools we develop are free for other creators to use and create their own comics with. We're sharing how we develop the content and giving fellow creators the tools to help make stories of their own. I think our culture's movement towards handheld devices, tablets and other digital platforms makes the digital space prime real-estate for comic content. There is a need to push content beyond the printed page and there are aspects of storytelling that simply aren't available in print – and I'm not talking about motion comics, but techniques along the lines of the 'Dashboard' storytelling style used in Relaunch. Those are things Ron and I are interested in talking about and exploring. And if we find and area where technology that is easy to integrate and multi-platform friendly doesn't exist, we want to work to make it available."
That brings us to their comic viewer, Yanapax, which is a free viewer-designed shareware that allows creators to stay independent. "The current trend in digital comics publishing has mostly been to put one's comic for sale in an app (or various apps)," Govar said. "In doing this, the creators have little control over the comic itself, and the storytelling aspects are tied to whatever the app can perform or whatever the creator wants to pay to have authored for a particular device/platform. Further there is the whole concept of revenue sharing and what are the various marketplace's cut, developer's cut, etc."
Govar and Perazza were looking for something different, something that would be web-based and work on all platforms. Oscar Gagliardi, a friend who is a developer, did the coding for the player, which is currently in beta. Features include standard playback controls that look a bit like a webcomic interface—next, previous, first, and last buttons—as well as fullscreen mode, thumbnail views, an autoplay feature, gesture support for tablets,and social media sharing. They are offering the viewer to creators for free, no strings attached, and they encourage users to customize it to better fit their needs.
How can they afford to do this? The short answer is that for Govar and Perazza it's not about the money. "Whenever money is the driving factor, creativity tends to be tied down or at least take a back seat to the question of 'How are we going to make money off of this?'" Govar said. "While the comics we produce can be monetized, our goals are more about getting people to think about comics in different ways—to encourage creators to create for digital content consumers, and to create better content."
"That really can't be understated," Perazza said. "When success is defined financially you tend to make completely different creative decisions…and all too often they end up not actually being very creative."
And for these two, it's all about being creative. "We're not really recruiting anyone or trying to build a studio or anything along those lines," Perazza said. "At the moment, we're just trying to advance ideas and tell some stories along the way."
"Our interest is in pushing digital comics further—making more immersive content and helping creators make better content," said Govar.

A former book editor and newspaper reporter, Brigid Alverson started MangaBlog to keep track of her daughters¹ reading habits and now covers comics and graphic novels for Comic Book Resources , School Library Journal, Publishers Weekly Comics World, Robot 6, and MTV Geek. She also edits the Good Comics for Kids blog at School Library Journal. Brigid was a judge for the 2012 Eisner Awards. Send her an email to wordballoons@gmail.com