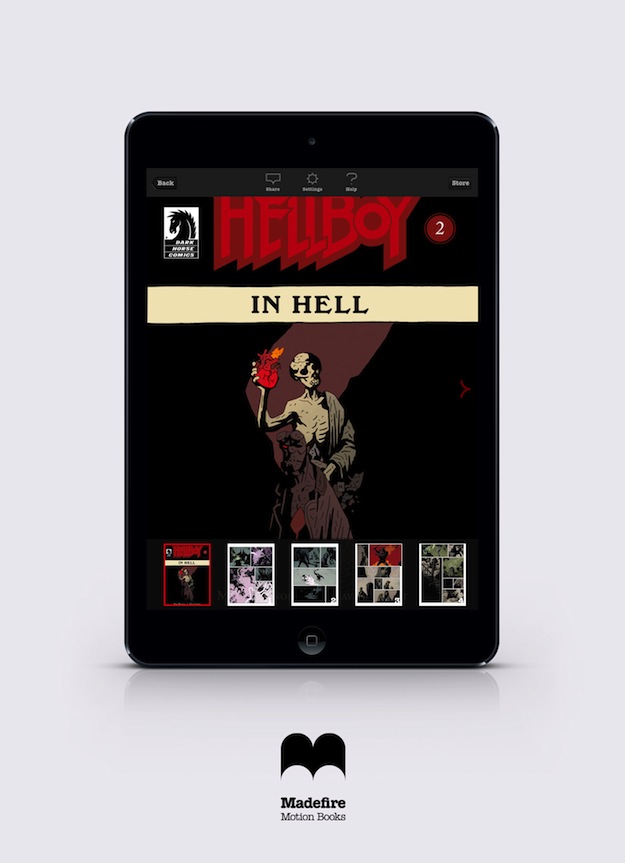 The motion-comics platform Madefire announced a new addition to its lineup today: Mike Mignola's Hellboy in Hell. The first episode is available to read on their site, alongside Madefire's motion-comics versions of Transformers, My Little Pony, and Star Trek comics.
Madefire has been around since 2011, and over the past year it has made several important strides, signing with Deviantart, a major social media platform for artists, to provide a web reader and inking deals with IDW, BOOM! Studios, ITV, and Top Cow to transform their properties into motion comics. Adding Dark Horse brings in another high-profile publisher, and one with an impressive array of content. Although no other titles were announced today, Dark Horse does have a deep inventory of licensed and original comics, including many game tie-ins, that would be a natural fit for a platform like Madefire.
Many of the motion-comics techniques Madefire uses on its Motion Books platform will be familiar to readers of Thrillbent and other digital-first comics: Rack focus, panning, panel-by-panel reveals, word balloons dropping in with a swipe or a click. Madefire also incorporates sound, adding ominous background music for the Hellboy comic, for example.
The comics are available on Madefire's iOS app and on Deviantart and most are priced at $1.99 per episode (as I noted when I reviewed Madefire's My Little Pony motion comic, the episodes are half of a standard comic issue). The platform also carries original comics, many of which are free, and as part of the Deviantart deal it has plans to open up its authoring tools to Deviantart users.
You can see a preview of the Hellboy in Hell motion comic on the Madefire site.
A former book editor and newspaper reporter, Brigid Alverson started MangaBlog to keep track of her daughters¹ reading habits and now covers comics and graphic novels for Comic Book Resources , School Library Journal, Publishers Weekly Comics World, Robot 6, and MTV Geek. She also edits the Good Comics for Kids blog at School Library Journal. Brigid was a judge for the 2012 Eisner Awards. Send her an email to wordballoons@gmail.com