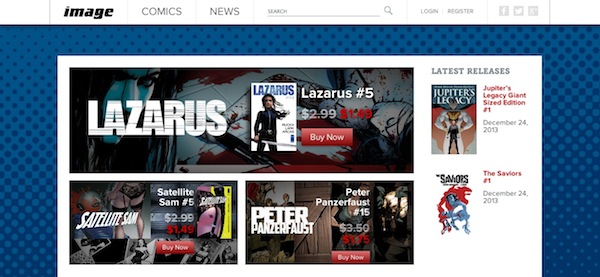 Image Comics is having a half-price sale on all the comics in its digital store right now, and that's a great opportunity to fill up your e-reader, because Image is the publisher behind some of the most talked-about comics of the year. Even better, Image sells its comics as direct downloads, which means you own the file—you don't have to depend on a third-party provider such as comiXology—and they will let you save the comic straight to DropBox, which makes it easy to access from all your devices. But don't dawdle, because the sale ends at 11:59 p.m. on Saturday, December 28. Here are some suggestions to get you started.
The Walking Dead: This is the comic behind the AMC series. It looks like Image has quite a few of the issues but there are some gaps; you might want to start out by reading the first issue, which you can get for free on comiXology.
Saga: Brian K. Vaughan and Fiona Staples's story of lovers from warring lands searching the universe for a safe haven for themselves and their baby consistently outsells all the superhero stuff on comiXology the week it comes out, and if you read it, you will see why: It's clever, funny, suspenseful, and well drawn. Again, check out the first issue for free (this time from Image) and see for yourself.
Sex Criminals: When Susie and John have sex, time stands still—literally! So naturally they use that power to rob a bank. This sex comedy was too hot for the App Store, but Time Magazine put it at the top of their list of the best comics of the year.
Chew: Chew is a detective story with a twist: Detective Tony Chu is a psychic, but his power only kicks in when he eats a bit of whatever has died. First taste is free on comiXology.
Great Pacific: A wealthy oil heir hatches a plan to establish a new nation—on the Great Pacific Garbage Patch. This is a great, action-packed story with lots of twists and some really clever art, and it's complete in 12 issues so it won't break the bank, either.
Think Tank: This one is a favorite of mine, a witty, McGyver-ish tale of a scientist who was recruited into military R&D at a young age and now regrets the destruction his inventions caused—so he wreaks revenge in creative ways that only a "slacker genius" can.
Pretty Deadly: A revenge tale with Death's daughter as the main character, this comic by Kelly Sue DeConnick (Captain Marvel) and Emma Rios (Dr. Strange) has been getting lots of attention—and the first issue sold out completely in print.
Skullkickers #24: There aren't a lot of Skullkickers comics in the Image digital store, but this is a good pick because it is self-contained, with four short stories. This series is a fantasy tale about two adventurers who get into lots of trouble—gamers in particular will find a lot to like, but the comedy and action are broad enough for anyone to enjoy.
Rocket Girl: A time-traveling cop from the future arrives in 1980s New York to solve a mystery. With a 15-year-old teenage girl as the hero and Amy Reeder's fluid art bringing Brandon Montclare's story to life, this is a comic not to be missed.
A former book editor and newspaper reporter, Brigid Alverson started MangaBlog to keep track of her daughters¹ reading habits and now covers comics and graphic novels for Comic Book Resources , School Library Journal, Publishers Weekly Comics World, Robot 6, and MTV Geek. She also edits the Good Comics for Kids blog at School Library Journal. Brigid was a judge for the 2012 Eisner Awards. Send her an email to wordballoons@gmail.com