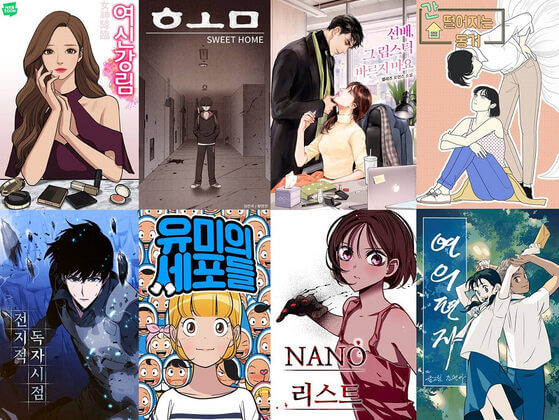 Apple signed a three-year contract with Kenaz, a webtoon production company, in December to feature webtoons on their Book app. With webtoon releases, the multinational technology company aims to meet the growing appetite of the genre. As per the deal, about 30% of Kenaz's webtoons will primarily be featured on Apple Books app.
The Rise of Webtoons Popularity
Established in 2004, Webtoons are digital comics from South Korea that have recently gained popularity worldwide. As of June 2022, it had reported a global user count of 85.6 million users. In July 2014, the platform was launched as Line Webtoon for global reach. Webtoon is a popular service where fans can upload and read their favorite comics in Webtoon format. It's also famous for its no-page turning and seamless scrolling. Its popularity has helped them make it to the Fast Company's Annual List of the World's Most Innovative Companies for 2023.
The adaptation of webtoons in drama and web series has made it an even more successful. Some examples of popular webtoons that turned into dramas are True Beauty, Sweet Home, and What's Wrong With Secretary Kim.
The core audience of webtoons is based in countries like the US, India, and Indonesia. About 18.14% of the webtoon audience comes from the US, followed by 13.35% and 9.81% from both India and Indonesia, respectively. Looking at these numbers, Apple's decision is certainly going to help Korean webtoons take the comic world by storm.
Apple Seals the Deal.
Apple Books in Japan has already released its first content (of webtoon) as per the deal. Besides that, there are 51 other countries that are ready to witness the Webtoon service. The entire deal between Apple and Kenaz has been planned since September 2022. This was reported when global heads of the Apple Books – Kashif Zafar and Sasha Norkin – visited Seoul to discuss the deal. The entire idea was thoroughly explored before finalizing the plan.
As of now, the deal seems to be a winner for Apple due to the rising demand for South Korean content worldwide. In fact, it may initiate competition between Apple and other local players, including Tencent and ByteDance, Naver and Kakao, and Amazon. However, only time will tell who wins the race.
Speaking of Kenaz, the production company is working on a webtoon version of the movie Gladiator. Also, they're collaborating with French Writer Bernard Werber to remake his Ants Trilogy into webtoons.
Will Kenaz and Apple collaboration give more boost to Webtoon and K-content? Let's wait and watch!

Navkiran Dhaliwal is a seasoned content writer with 10+ years of experience. When she's not writing, she can be found cooking up a storm or spending time with her dog, Rain.