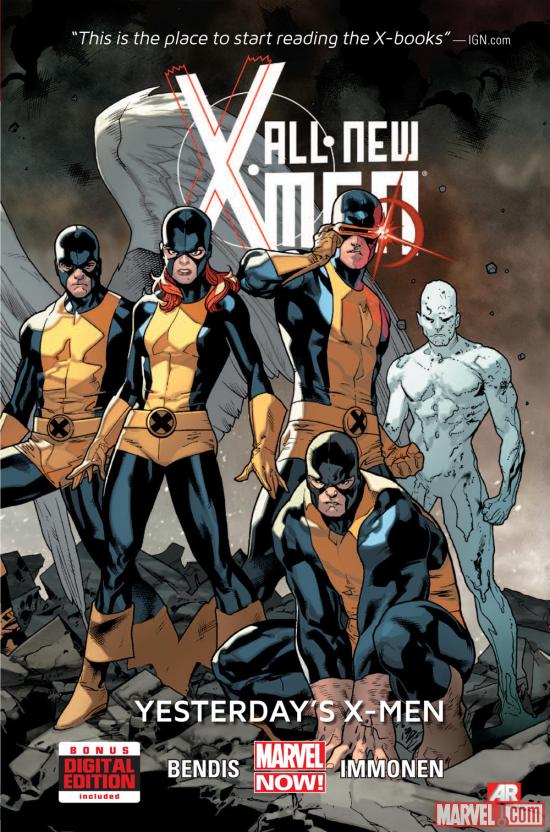 Buy it in print, get digital for free: Marvel has announced it will include digital codes in its Marvel NOW hardcover graphic novels that will allow the reader to download a free digital copy. They already do this with some of their monthly comics and other graphic novels, and apparently response so far has been good.
Archaia pioneers digital variant cover: The publisher Archaia is working on a new version of Shotaro Ishinomori's classic manga Cyborg 009, and last week, on what would have been Ishinomori's 75th birthday, they released a digital preview that included a digital variant cover—one that could only appear on a digital comic. The cover uses the same technique that Mark Waid and Stuart Immonen used in the Avengers Vs. X-Men Infinite comic: Each swipe brings a new element into the picture. You can see an animated GIF of the cover at the link.
Explaining Shonen Jump: Just last week, Viz made some major changes in its Shonen Jump digital comics magazine, changing the name (from Shonen Jump Alpha to Weekly Shonen Jump), bringing several of the high-profile series (Naruto, Bleach, One Piece) in sync with their releases in Japan, and adding some new series. At The Comics Journal, Joe McCulloch has a nice introduction to Shonen Jump, in which he talks about how the magazine differs from its Japanese counterpart (not only does it not carry every series in Japanese SJ, it actually includes series from other magazines) and offers some suggestions for readers who are intimidated by jumping in at chapter 634 of a series.
Taking care of Viz-ness: Meanwhile, Viz is also adding the full-color Dragon Ball manga to the Shonen Jump lineup, and in their regular digital service, they are bringing back the classic shoujo (girls) manga series Please Save My Earth in digital form; you can check out a generous preview here.
How digital differs from paper: Artist Jim Rugg has an interesting post on his blog in which he looks at the print and digital editions of Hellboy in Hell and is amazed at the difference—the digital version is richer and has details he can't see in print. Rugg then goes all practical and discusses how print techniques can be improved to bring up the standard to digital.
ComiXology continues its march towards world domination: Well, not exactly, but the digital comics distributor has opened an office in Paris to handle its international and foreign-language business.

A former book editor and newspaper reporter, Brigid Alverson started MangaBlog to keep track of her daughters¹ reading habits and now covers comics and graphic novels for Comic Book Resources , School Library Journal, Publishers Weekly Comics World, Robot 6, and MTV Geek. She also edits the Good Comics for Kids blog at School Library Journal. Brigid was a judge for the 2012 Eisner Awards. Send her an email to wordballoons@gmail.com