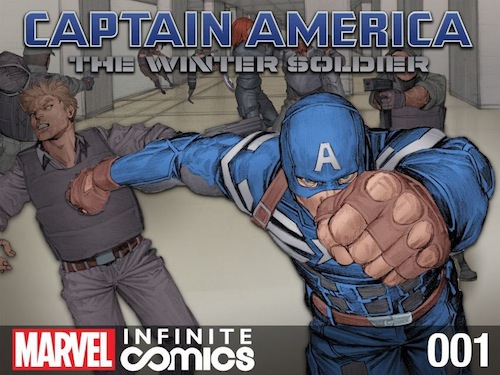 Marvel Comics bills this as a "stealth release," but since they sent out a press release about it, it's hardly on the down low. Anyway, this looks like a worthy comic: Available on the Marvel and comiXology platforms, it's a digital prequel to the film Captain America: Winter Soldier, which is due out this summer. The comic is scripted by veteran writer Peter David and drawn by Rock-He Kim, and it uses Marvel's Infinite Comics bag of tricks to fully exploit the possibilities of digital comics storytelling.
Here's the setup:
In downtown Chicago, a dangerous weapon called The Zodiac has fallen into enemy hands. Now, it's up to Captain America, along with guest stars Black Widow and Brock Rumlow, to race against time to stop a mysterious terrorist group before it's too late. All leading up to an action packed confrontation atop Chicago's tallest skyscraper! But is there more here than meets the eye? What secrets is S.H.I.E.L.D. keeping? Are there enemies on both sides?
The comic will feature Captain America's new stealth suit (aha!) and his team will include Black Widow and Brock Rumlow. Sounds like fun!