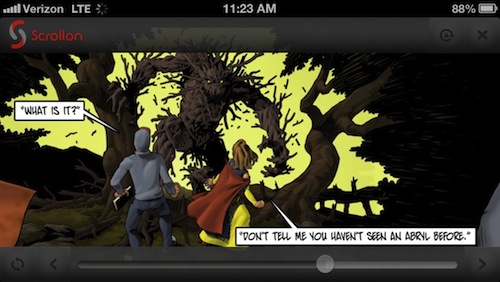 The makers of the Scrollon digital comics app, which I reviewed here last June, have introduced an iPhone version; the original app was iPad only.
Scrollon is unique among comics apps in that it does away with panels altogether in favor of a single, continuous horizontal strip. As I pointed out in the review, it's still hard to get away from the idea of panels, even if the borders aren't there, but this does point the way toward a new, more fluid form of storytelling.
What's more, it turns out that the app is pretty good on the iPhone. As developer Doug Leffler says in the official press release, "Digital comics on a smartphone have always been challenging. Especially with stories re-purposed from traditional print comics, where each frame is a different size and proportion. Even fixed layout comics intended for digital first distribution cannot fit every screen format. Scrollon answers this problem because the height of each frame is consistent and you read by traveling though the images."
He's right. Scrollon includes a limited selection of comics, all of which are designed specifically for the app, which already makes for a smoother reading experience, but the point about the fixed width is well taken. Reading a standard comic on an iPhone often means adjusting your sense of scale from panel to panel, as a large and a small panel will appear almost the same size; the alternative is pan-and-scan viewing that zooms in on different parts of a larger panel. Either way, the experience can be choppy.
At the moment, Scrollon doesn't have a lot of content, but the technology is intriguing. Instead of adapting print-format comics to digital media, Leffler has created a platform that is well suited to mobile phones and tablets and designs comics specifically for that. It's an intriguing glimpse into the future, and since the app is free and includes several free comics and previews, it's worth downloading to take a look.