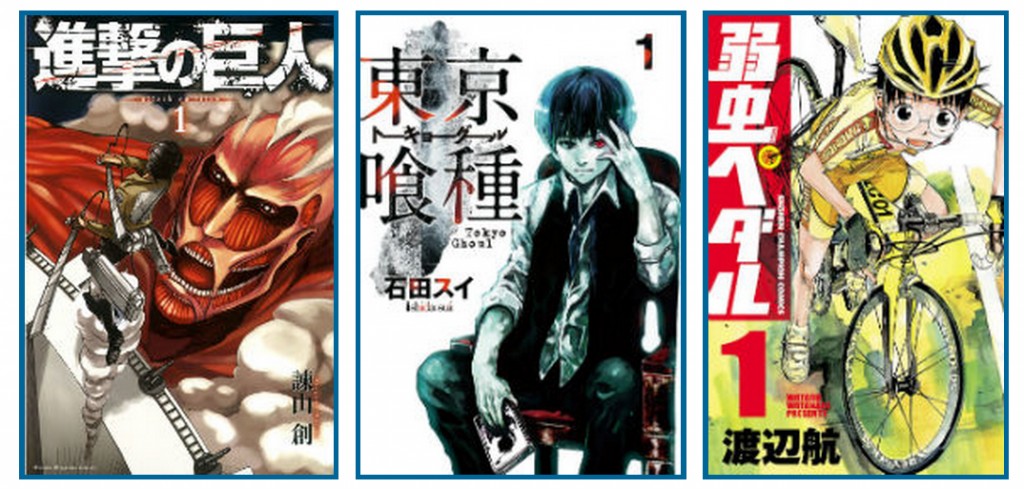 In Japanese culture, Manga is quintessentially apart of everyday life. It is ridiciously easy to buy one on the way to work and read it in a single day. Here in North America, things become a little bit more difficult, as bookstores often have a very paltry selection. This has given rise to digital distribution as an avenue for explosive growth. Viz, Crunchyroll, Manga Rock and a number of other apps make downloading and reading content very efficent.
The purpose of the top 10 manga list of 2014 is to give you a sense of what these are all about. Not only are they available in manga form, but most also have television shows that are available to watch via Crunchyroll or without subtitles in Japan. Maybe you will find a compelling read!
Attack on Titan – Eren Jaeger lives in city surrounded by monolithic walls. Outside dwell human murdering Titans. For decades members of the Scouting Legion have been the only humans who dared to leave the safety of the walls and gather information on the Titans. Every time they return, many of them are dead. Freedom loving Eren has no greater wish than to join them.
Tokyo Ghoul – Ken Kaneki is a bookworm college student who meets a girl names Rize at a cafe he frequents. They're the same age and have the same interests, so they quickly become close. Little does Kaneki know that Rize is a ghoul – a kind of monster that lives by hunting and devouring human flesh. When part of her special organ – "the red child" – is transplanted into Kaneki, he becomes a ghoul himself, trapped in a warped world where humans are not the top of the food chain.
Yowamushi Pedal – Sakamichi Onada is a wimpy high school freshman who loves anime. He initially wants to enter the anime club, but winds up joining the cycling club after meeting two classmates who are already famous cyclists. He undertakes the grueling training to compete in races, and discovers his own hidden talent in cycling. This manga has spawned a TV show and various gatherings in Japan where people meet up and cycle together now.
One Piece – Twenty two years ago, the legendary pirate, Gold Roger was executed. His final words told that his treasure known as "One Piece" was hidden somewhere on the Grand Line. This started the Age of Pirates. Now, twenty two years later, seventeen year old Monkey D. Luffy desires to find One Piece, and become the Pirate King. But to do this, he needs a crew.
Haikyu!!– Shōyō Hinata began playing volleyball after seeing the "small giants" who played the sport when he was in elementary school. He suffers a crushing defeat in his first and last tournament in middle school at the hands of his rival Tobio Kageyama. So, Hinata joins Kurasuno High School's volleyball team, vowing revenge against Kageyama. However, Kageyama is also on Kurasuno's team. The former rivals form a legendary combo with Hinata's mobility and Kageyama's precision ball-handling. Together, they take on the local tournaments and vow to meet Kurasuno's fated rival school in the nationals.
Ace of Diamond – It is a manga of high school baseball. The main character, who is a pitcher from a country high school, accidentally gets teamed up with a catcher from a school with an elite baseball team. He decides to quit his school to attend the school that this catcher plays…..
Magi – In a fantastic middle-age world where slavery is very common, there are mysterious tall towers named "Dungeon" which mysteriously appeared out of nowhere fourteen years before the story line. Someone who conquers a Dungeon becomes very powerful and wealthy. Our hero Ali Baba is a teenager who works for merchants to support himself. He dreams for conquering a lot of Dungeons and becoming a very rich person. One day, he comes across with a strange young boy named Aladdin who carries a mystical flute with supernatural powers in it. Ali Baba and Aladdin agree to travel their first Dungeon together.
The Seven Deadly Sins – Elizebath sets out to save the Kingdom of Lyons by searching for the infamous group of criminals who tried to overthrow the Kingdom, to ask them to save the Kingdom. She stumbles into a travelling Bar where she meets Meliodas, the owner of the Bar and the Dragon's Sin of Wrath. After a brief encounter with a Holy Knight, the journey starts, to find the other members of the Seven Deadly Sins and to try and save the Kingdom.
Terra Formars – With Earth quickly becoming uninhabitable due to a swelling population, humans develop a project to terraform Mars, one that involves leaving cockroaches on the planet's surface. Five hundred years later, Earth sends a team of astronauts to "exterminate" the roaches and prepare Mars for colonization. Once there, however, the astronauts discover that the roaches have rapidly mutated into terrible humanoids, more powerful than any normal human. But the astronauts have been given special, insect-like abilities to deal with the roaches, and a violent struggle for control of the planet ensues.
Chihayafuru – Chihaya Ayase is a frank and ebullient girl who becomes fascinated by the obscure world of competitive karuta, a card game based on Japanese poetry. Introduced to the aggressive style of the game by a quiet and thoughtful elementary school classmate named Arata Wataya, the two quickly become close friends. They start playing as a group with Taichi Mashima, Chihaya's smart and athletic childhood friend, until they have to part ways during their middle school years due to several circumstances. As their high school life begins, they meet once again.

Michael Kozlowski is the Editor in Chief of Good e-Reader. He has been writing about audiobooks and e-readers for the past ten years. His articles have been picked up by major and local news sources and websites such as the CBC, CNET, Engadget, Huffington Post and the New York Times.