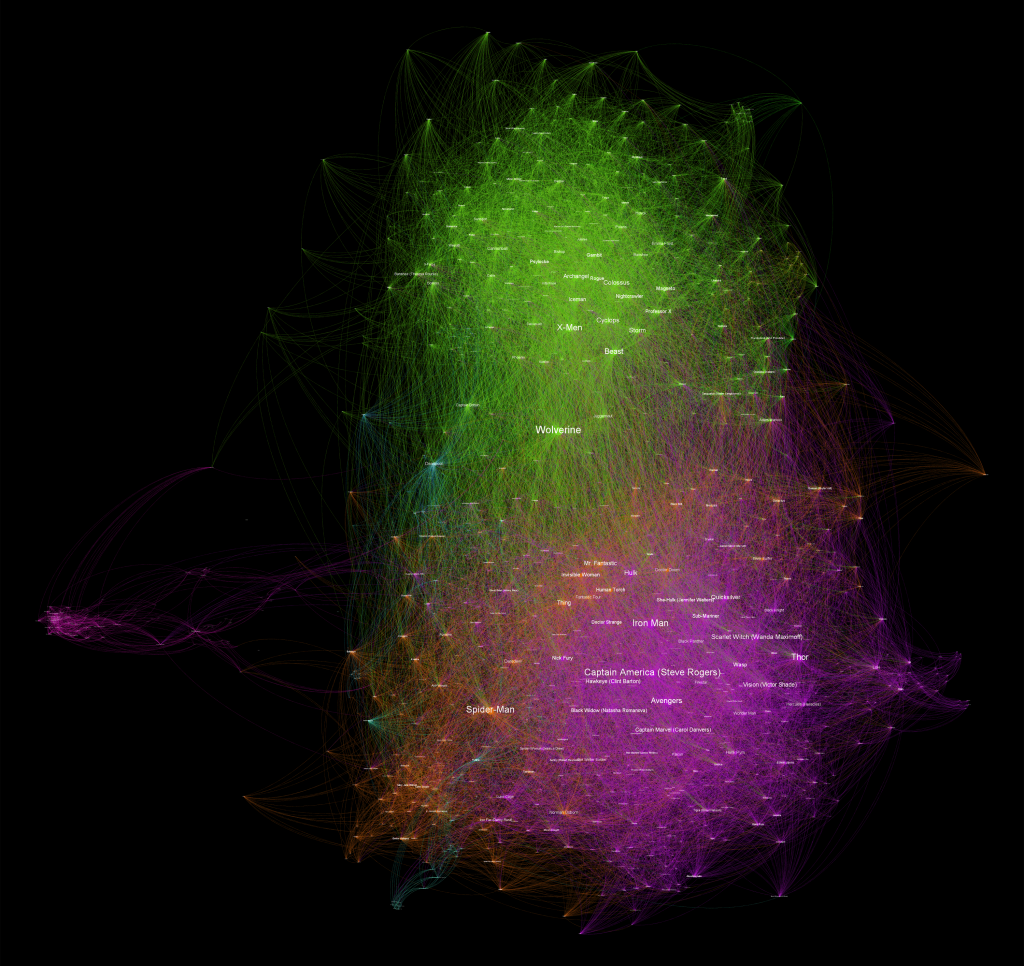 Marvel Comics have been around for 70 years, and during that time their universe of characters has been steadily growing and evolving; in a recent talk, Marvel vp of web and application development Peter Olson sketched out the dimensions: over 8,000 named characters, written and illustrated by 5,000 creators, appearing in 30,000 comics, 32 movies, and over 30 television shows. The very richness of the Marvel universe, however, is also the greatest barrier to entry for many people: So many characters, constantly changing not only over time but also across different titles—Spider-Man used to be Peter Parker in the Amazing Spider-Man comics (and he still is in the newspaper comic strip) but now the former villain Otto Octavius has taken him over in Superior Spider-Man, while Miles Morales wears the webs in Ultimate Comics: Spider-Man. Captain America was Steve Rogers, then he died and his sidekick Bucky Barnes took over, except that in the movie Captain America was Steve Rogers again. Like they say on Facebook, it's complicated.
That's a barrier for new readers. The movies based on Marvel characters are among the top grossers at the box office, but it's pretty much impossible for someone who has just seen the Avengers movie to pick up an Avengers comic and start reading. That's the problem that Olsen is working on: Creating a massive data map of all Marvel characters.
Right now, Wikipedia is the confused reader's best friend, and if the article is up to date, it will give a pretty good sense of who the character is and what changes it has been through. But that's a one-dimensional view. The beauty of Olsen's database is that it maps out the characters and their relationships to one another, the types of stories, even the styles of the creators. That will allow readers not only to learn who the characters are, across time and different storylines, but also to find more comics that they will like:
"Instead of waiting for Amazon-style "users also bought" data suggestions, Marvel wants to track relationships within its vast library. Like the teen superhero angle of Runaways? Try Young Avengers. But wait, you just want to see more stories drawn in the style of original Runaways artist Adrian Alphona? The Marvel graph database will find an answer based not only on book similarities but nuanced metadata, like writer or artist style. Better still, it'll do what the venerable ComicBookDatabase cannot: confidently propose a list of essential story arcs for the new fan."
And it will recommend movies and other media as well as just comics. This type of graph database has many possible applications outside of comics, but the tangled universe of Marvel continuity is certainly a great place to start.

A former book editor and newspaper reporter, Brigid Alverson started MangaBlog to keep track of her daughters¹ reading habits and now covers comics and graphic novels for Comic Book Resources , School Library Journal, Publishers Weekly Comics World, Robot 6, and MTV Geek. She also edits the Good Comics for Kids blog at School Library Journal. Brigid was a judge for the 2012 Eisner Awards. Send her an email to wordballoons@gmail.com