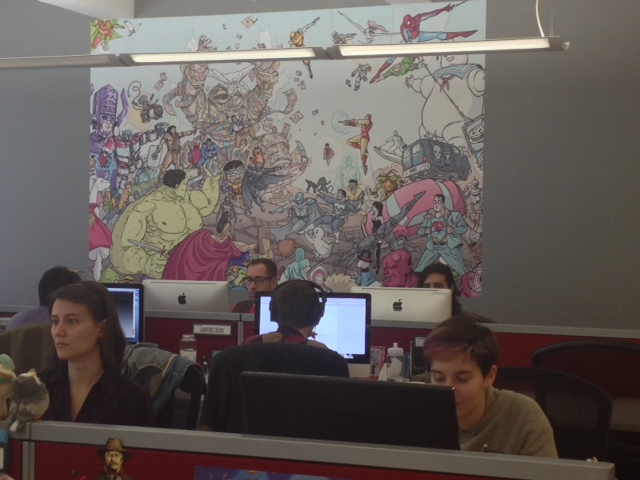 The day before New York Comic Con, the comiXology folks invited the press to their office for a presentation about their user groups and a chance to hear some actual comiXology users talk about their comics reading habits. We covered the statistics in Part I of this story, and now here are some of the comments we heard from users.
The group consisted of three men and two women, and their ages matched those of typical comiXology users; Aaron is 28, Christian and Benjamin are both 40, and Suzanne and Marlene are both 23. As the statistics show, men outnumber women among comiXology users (by a ratio of 4 to 1) and the women tend to be considerably younger, in the 17 to 26 age group. Another aspect that correlated with statistics was the length of time they had been reading comics: Aaron and Benjamin have been reading comics since they were kids; Christian was a longtime comics reader who had taken a break for two or three years because he had run out of space. The women, on the other hand, were more recent converts: They both started reading comics in college, and Suzanne actually began reading them when she got an iPad—so she was reading digital comics before print.
ComiXology CEO David Steinberger pitched some questions to the group, and their answers were varied and sometimes surprising. First, he asked if they had discovered anything new via comiXology.
"There are a lot of independent comics that are pretty interesting, like Power Play, that are using Guided View technology," said Marlene. "I heard about it on Twitter because the artist on that book is one of my favorite artists, Reilly Brown."
Suzanne said she knew nothing about DC comics until she went digital. "I started with The Dark Night Returns," she said, "and after that I sort of picked and chose, and a couple of friends recommended a few things to me."
"Watson and Holmes," said Benjamin, noting that this is a comiXology Submit title he heard about via Twitter and Instagram.
"I'd say comiXology brought me back to Marvel," said Christian. "I was strictly a DC guy for many, many years. I read Marvel in the 80s, with [Chris] Claremont's great X-Men run, but it got so convoluted, and there's only so much time in the day and money in the bank, so I strictly went DC and was very happy with it. But because you guys run your amazing Marvel Monday 99-cent sales, I read the amazing run on X-Factor, by Rick Remender. It's amazing stuff, and I wouldn't have gotten that if it wasn't for what you guys do."
Aaron said he picked up on new series when they went on sale, and he singled out Invincible as one he had recently read. "It starts off like a play on a lot of superhero tropes but then it takes a fantastically dark turn," he said. "It becomes a really gripping story."
The discussion then turned to the shopping experience and single issues versus trades (collected editions). Aaron said he preferred trades, and Steinberger pointed out that comiXology is about content—"What digital can't do is prop up the revenue of the market by doing variant covers," he said. "We get readers. We don't get collectors."
"I really do runs of stories," said Christian. "If a writer I love has a book, I'll just buy it all in bulk or wait for sales."
Steinberger pointed out that The Walking Dead runs in six-issue arcs that are easily collected into trades. "Every six issues he cliffhangs, gives you a conclusion, wraps up the storyline, and gets you prepared for the next one," he said. "Reading in that form, it's an easier form for new people to get into. We have both. We have an enormous back issue bin… and we also have collected editions, which allow people to say 'I know this is going to be a good story, I'm going to get to some sort of conclusion.'"
"I still go to the comics shop and buy certain trades," said Benjamin. "I just don't have room to buy single issues any more. The companies were starting to produce stories that weren't particularly engaging and turned me off to single issues. We were talking about Infinity, that you need the Avengers crossover, I just didn't want to start buying single issues of these various books so I'm just going to wait until it becomes a trade and buy it then."
Suzanne said she buys independent comics in print, because she likes owning the single issues, but she buys all her Marvel and DC comics digitally. "I enjoy being able to go to the comics store and talk to people," she said, "but I also love having everything in one place on the app. It's really easy to keep it organized; I don't have to worry about losing anything."
Marlene loves her little hole-in-the-wall comic shop, but, she said, "I have switched to digital now because I like sharing a lot. I like writing about comics, and it's really easy to just put in a link and people can buy it if they are interested. It's instant gratification."
The panelists were unanimous in their praise for comiXology's panel-by-panel viewing system, Guided View.
"For me it is absolutely preferred," said Aaron, who reads most of his comics on an iPhone. "I have tried reading on iBooks and it just is not a good experience the way that they present it… Even if you have a trade paperback version, Guided View gives an entirely new experience."
"Cinematic is the only way I can express it," said Christian. "I like to listen to music while I'm reading, and I would love to shake the hand of a few people Here. They obviously didn't know me, and they didn't know what I would be listening to, but when I flipped on my [Kindle] Fire, the best director in the world couldn't have done it better."
"It's a clean, user-friendly interface," said Benjamin, who owns an iPad but does most of his comics reading on an iPhone, partly because he reads outside his home. "The phone is just comfortable to me," he said. "I love how it fits to your screen."
"I like Guided View a lot, especially for books like Power Play, where it's integrated," said Marlene, who reads comics on an Android tablet. "But I prefer the full page."
There was more variety in the panel's attitudes to print comics. "There are a lot of things I will get single issues of digitally, and then when the trade comes out, I will buy it in print," said Suzanne, citing Kelly Sue DeConnick's run on Avengers Assemble. On the other hand, Christian said, "No offense to print authors, but print is dead to me."
The final question the panelists addressed is one that has vexed digital comics readers from the beginning: Do they have faith that comiXology, and their digital comics, will still be around in five or ten years?
"I take advantage of the storage space you guys are nice enough to allow us to have, but you can download the book onto a non internet based storage device and the device will still read that content," said Christian. "At some point I'm sure things will change—that's the nature of things—but do I have faith that five years from now, yeah. Ten years from now I know it will be different."
"In ten years we won't even know what the reading devices will be," said Steinberger.
"We don't know what the actual hardware will be, but I think digital comics are obviously going to be around," said Suzanne. "I work in a print publishing company, and all we are doing right now is figuring out how to convert things to digital, how to make things more easily accessible. I think it's what the future is, and I think it with comics it makes even more sense because it is such a visual medium."
"I think that with any company, particularly companies that deal largely in the cloud or with digital media, your commitment to a great customer experience is what's going to determine how long you are around," said Benjamin. "If what's happening with comiXology today is any indication, I don't see any reason why it wouldn't be around. So I have faith that in five or ten years the content will still be up there on the cloud somewhere."
"When I downloaded the comiXology app, I also downloaded the Marvel, DC, and Image apps," said Aaron, "and they all just used comiXology—they were all tied into it. That gave me faith that they obviously have an infrastructure, they are established, they are tied in with everyone."

A former book editor and newspaper reporter, Brigid Alverson started MangaBlog to keep track of her daughters¹ reading habits and now covers comics and graphic novels for Comic Book Resources , School Library Journal, Publishers Weekly Comics World, Robot 6, and MTV Geek. She also edits the Good Comics for Kids blog at School Library Journal. Brigid was a judge for the 2012 Eisner Awards. Send her an email to wordballoons@gmail.com