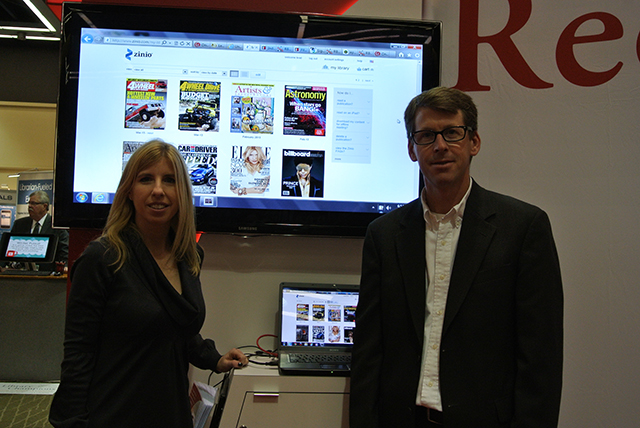 Recorded Books started out in 1979, heavily investing themselves into the library space. They currently have a catalog of 13,500 audiobook titles that they market to libraries and retail customers. They also own a UK audiobook company which helps contribute further assets. Recently, the company was sold to Wasserstein & Co to help with the cash flow. Really, what this mean for the future of Zinio and Recorded Books?
Recorded Books helped digital magazine subscription service Zinio enter the library space. Zinio has really just focused on selling magazines directly to customers, but this is often a fickle business proposition. Recorded Books basically leveraged their existing base of library contacts to help market hundreds of magazines, in addition to their audiobooks and 100,000 eBooks, via the OneClickDigital platform.
The deal with Wasserstein was made to tap into a serious cashflow to help the company compete against Overdrive, 3M Cloud Library and Axis360. Recorded Books needed to refinance to expand their reach and help market their services. They sorely need it, as Overdrive has usurped their position in the marketplace by offering everything Recorded Books does, but providing a very slick UI and backend tools for libraries to manage and purchase collections.
In order for Recorded Books to be a viable business proposition going forward they will have to establish more relations with publishers to enhance their eBook catalog. During the last few months they got Random House as a partner and hope to woo the other publishers who deal with the competition. They also need to expand their distribution for movies and streaming video to market to libraries.
Recorded Books and key Zinio executives formed a relationship with IndieFlix, which is a subscription based video streaming service. It basically showcases documentaries and indie films, which is quite different from mainstream catalogs offered by Overdrive. Past and present employees of Zinio and Recorded Books sit on the board of directors at IndieFlix and hope to help their business grow and also get their videos into the Recorded Books platform.
Zinio is a company in a state of flux and the future looks uncertain. They used to do brisk business in the Apple App Store when the iPad originally came out. They remained in the top ten for a number of years until Apple launched their own Newsstand. Within a few years Amazon, Google, Apple, Rogers Media, Magzter and PressReader all started offering competitive digital magazine subscription platforms. Zinio has seen diminished market share because of this and now relies on Recorded Books to distribute their catalog of content to libraries and schools. In 2012, at the height of the downward trend, Zinio explored the option of selling itself, but decided to weather the storm.
Recorded Books in the near future will be able to offer libraries a very compelling package of content, that only Overdrive can match. They have audiobooks, eBooks and magazines. Video is the only thing they are missing, as well as a more intuitive set of tools that ties into libraries ILS systems. The much needed cash injection should keep them going into the near-future, but they really need to do some key things to stay profitable.