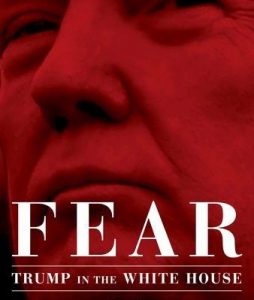 You'd think Simon & Schuster might have thought twice about trying to get political after the fiasco of attempting to publish the vapid, pointless, hate-mongering memoir of the self-professed creator of the alt-right movement, but luckily for the publisher, their latest venture didn't tank like the Milo Yiannopoulos book. Instead, Watergate reporter Bob Woodward's sneak-peek-with-tapes-to-prove-it look at the Trump administration has astounded even those who thought it might be a safe bet.
According to S&S, Fear: Trump In The White House has reportedly been the publisher's bestselling book…ever.
According to Publishers Weekly, "In a statement, Simon & Schuster said Bob Woodward's Fear: Trump In the White House sold more than 1,100,000 copies through its first week on sale in all formats, including 'orders from consumers that are as yet unfulfilled due to extraordinary demand.' The publisher cited the the sales as marking the largest figure for any title in company history. It also revised its on-sale date figures to 900,000."
The book was released coincidentally close to the New York Times publication of an anonymous op-ed–allegedly written by a senior White House official–that called out Trump for being basically too dumb to tie his own shoes, let alone lead the nation. Woodward's book took that premise and ran with it, with some highly notable anecdotes:
"Trump mocks people who work for him, as well as those he dislikes. The book suggested that the majority of people who worked in close proximity with the president found themselves on the receiving end of one of his barbs at some point or another. Trump said Priebus was 'like a little rat. He just scurries around'; suggested Attorney General Jeff Sessions was 'mentally retarded' and a 'dumb Southerner'; and told Commerce Secretary Wilbur Ross, 'I don't trust you. I don't want you doing any more negotiations…. You're past your prime.'
"Trump wanted to watch golf when his counterterrorism adviser asked to speak to him. Tom Bossert, a former Homeland Security counterterrorism and cyberterrorism adviser to Trump, said he had asked to speak with the president and was then told: 'I want to watch the Masters…. You and your cyber…are going to get me in a war—with all your cybershit,' according to an excerpt from Woodward's book shared by Axios."–Newsweek
Woodward's book and S&S's release of the title are timed perfectly, as the US is less than 50 days away from one of the most actively monitored midterm elections in recent recollection. The current sentiment that the Democrats can take control of Congress–and the supposed Republican pants-wetting fear that this might be true–are only compounded by firsthand accounts like this.
Mercy Pilkington is a Senior Editor for Good e-Reader. She is also the CEO and founder of a hybrid publishing and consulting company.