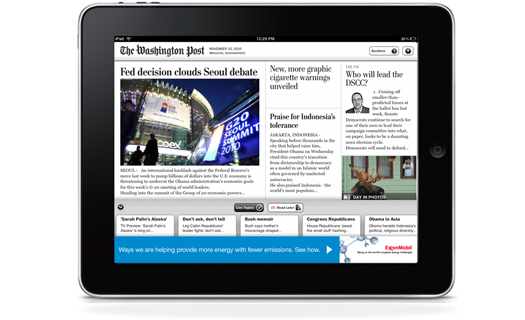 Newspaper outlets were initially slow to adopt digital publishing in a full-force manner, with many still experimenting with systems like paywalls and subscriber-only content in order to avoid alienating their paid print subscribers. But new data is showing that news outlets have nothing to fear from digital; even as print sales and print advertising revenue continue to decline, digital readership–especially among the demographics that have basically grown up with instant news access via the internet–is on the rise.
According to an article by Erik Sass for MediaPost, there are reports of the "digital audience for U.S. newspapers reaching a record 173 million in January 2015, according to comScore data cited by the Newspaper Association of America. That figure is the highest ever, up 19% from 146 million in January 2014, and 4.8% from 165 million in December 2014. The latest figure represents 82% of the total U.S. adult online population in January 2015. Furthermore, newspapers' digital content reached 91% of U.S. adult women ages 25-34, and the same proportion of U.S. adult men ages 35-44."
Interestingly, there was a sharp increase reported in the numbers of readers who limit themselves not only to digital consumption, but also to utilizing only mobile devices for digital newspaper reading. That fact should speak volumes to publishers and providers alike. Publishers need to ensure that their content, especially their all-important advertising content, lends itself to mobile reading. Digital content providers like subscription providers or other sources such as libraries and the hospitality industry need to ensure a seamless experience for people who plan to read on the small screen.
More importantly, the data revealed crucial information about exactly who is reading on their mobile devices, which should give publishers and advertisers the leg up in providing targeted content that speaks to readers.
"Within the mobile-only group, the fastest growth in proportional terms came among young women ages 18-24, as this subset soared 155% from 3.2 million to 8.2 million over this period. Not far behind were men ages 34-44, with the number of mobile users in this demo up 122%."
There's one final piece of information that publishers and providers must understand about the way digital newspapers are currently consumed. Last year, digital advertising revenue accounted for just over $3 billion, or roughly 14% of total newspaper ad revenue; at the same time, digital subscriptions through both stand-alone apps and service apps like Pressreader accounted for almost $11 billion, meaning the money is coming from the readers, not the advertisers.

Mercy Pilkington is a Senior Editor for Good e-Reader. She is also the CEO and founder of a hybrid publishing and consulting company.