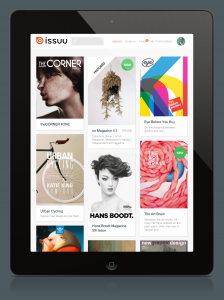 Originally founded in Denmark, digital publishing platform Issuu has become one of the fastest growing global companies for digital magazine publication. Today, the company announced not only the launch of its US operations in Palo Alto, California, but also named some former executives with companies like Yahoo! and Google in key leadership roles.
Joe Hykin, formerly with companies like Gaia Interactive, Yahoo!, Flickr and Virage, has been named as Issuu's new CEO, while Bradley Horowitz, Google's Vice President of Product Management, Social Products Division, has been named to the board of directors.
Hykin spoke to Good e-Reader last week ahead of this announcement about what some of the directions the leadership intends to take the company will be.
"We're about providing access to the depth around content ideas and subject matter that people are passionate about," explained Hykin when discussing the role of Issuu in providing content. "It's less about the immediacy of current news, and much more about connecting people with the content for which they have a huge passion."
"We're announcing that we're expanding our presence and our operations, and we're bringing on Bradley Horowitz to our board. He has an extensive background in content distribution and combining access to content with cutting edge digital technology. We look at Bradley coming on the board to demonstrate the seriousness for which we want our platform and access to the transformation that we're making available to the digital publishing world."
"Our focus is really about connecting readers to content that they love. In order for that to happen, we have built a platform that lets publishers from around the world to have a set of tools and services to make that content available digitally and to be discovered. What we're really looking to do is to expand access to content digitally, to facilitate the ability to distribute efficiently and effectively, and to help publishers monetize it while readers can discover content that they love. We're think about this from an audience perspective."
Issuu has over sixty-five million unique visitors per month, and uses that customer base to ensure that they are providing individualized content for a broad reach of interest areas.
"I'm less focused on various other players in this space and much more focused on the breadth and depth of what we're able to provide. We want to keep growing and building, and giving great tools to publishers to give really cool, fun content to readers."
Mercy Pilkington is a Senior Editor for Good e-Reader. She is also the CEO and founder of a hybrid publishing and consulting company.