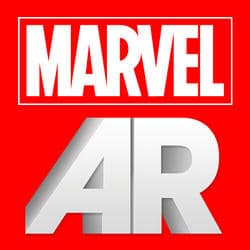 At the South by Southwest Interactive conference in Austin, Texas, Marvel showed off their new initiative to bring augmented reality to their printed comic books. This new process is called Marvel ARX and will be showcased during the upcoming Marvel vs. Avengers storyline.
The main premise of this new program is to bring the social aspect to another level within comic books. Select comic books will have the AR on the cover of the book, and if you scan it with your phone or tablet you can get a plethora of new content via its free app.  These new apps will be available on Android and the iOS platform in the next few weeks. The content varies from comic to comic. In some cases you may get the editor giving you a rundown of what a particular story-arc is all about, or even videos by the writers. For now, Marvel AR is only in the printed comics and the company intends to gauge the success to see if a digital followup is warranted.
The essence of Marvel AR is to stimulate sales and bring the sociological aspect to another level. In most graphic novels these days issued by the company you see a number of features towards the end of the book. The writers, editors, and artists often comment on the main aspects of the book, and even have a scene by scene breakdown. The new digital aspect will save room on the printed version and give people a way to access the content online.
Marvel has not developed this AR technology on its own and instead has partnered with Autonomy's Aurasma platform. This tech was shown off at at the conference today and had a ton of acclaim with the ability to watch streaming video, audio, and more. During the demo, Techcrunch noted that "The augmented reality experience and it was quite impressive. A phone, screencast to a projector, showed that when pointed at an Iron Man comic book, a giant 3D Iron Man appeared in front of the page, flexed his metal muscles and hovered around complete with sound." Aurasma debuted its AR engine at CES in January
"We are really bringing the comic to life," said Peter Phillips, senior vice president and general manager of Marvel Digital. Added editor-in-chief Alex Alonso: "Every issue of Avengers Vs. X-Men is going to be jam-packed with these. Our goal is to enrich your comic reading experience and tell stories in a new way."