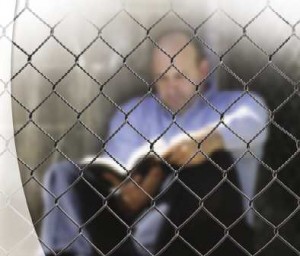 The Pennsylvania Department of Corrections is drawing criticism for a recent regulation that will ban anyone–including established literacy organizations and charities–from donating print books to incarcerated individuals. Instead, the DOC requires that all inmates read only content already contained in the prison library or on tablets that the inmates must purchase and pay to fill.
This might seem like a no-brainer on the surface: according to state officials, print books have been problematic for being laced with drugs. While having numerous inmates high in the facility is a big enough safety concern, according to reports, the laced book pages have even affected staff members who had to seek medical attention. It's not hard to imagine an organized "plot" in which inmates attempt an escape by subduing multiple staff members at once.
However, that scenario (while a convenient excuse) is pretty lame on the part of the DOC. Family members were banned quite some time ago from sending inmates reading material, even titles that were ordered and shipped directly from the publisher or a retailer. In this new development, it is organized agencies that promote reading and human empathy that are no longer allowed to donate books.
The problem goes impossibly deeper: the literacy organizations accommodated the need for books, but also functioned to provide "requested" materials that were appropriate in nature, meaning law books, textbooks, and more. By blocking inmates' access to these kinds of titles, the DOC is effectively ensuring that prisoners cannot assist in their own defense or attempt to research other avenues to reopen their cases before a judge.
According to sources, the cost of an inmate-purchased tablet is around $150, and titles can cost as much as $25 each. The cost becomes prohibitive for too many individuals who simply want to read a book to pass the time. It seems as though the DOC has accidentally (or intentionally) proven that ebooks are not always better than print.
Mercy Pilkington is a Senior Editor for Good e-Reader. She is also the CEO and founder of a hybrid publishing and consulting company.