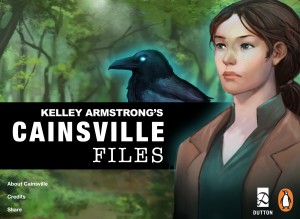 One thing digital publishing has done on a widespread basis for the industry as a whole is give content providers–from the newest writer venturing into self-publishing to the largest, oldest publishing houses–the flexibility and freedom to provide additional incentive for readers to pick up their books. Authors and publishers alike have experimented with bonus content in ebook form, bundling titles, and even offering special promotional pricing that couldn't have happened when there was a minimum profit margin that had to be maintained on an expensive print edition.
Now, one of the most well known brands in the publishing industry bar none, Penguin, is adding digital-based content to commemorate the work of one of its authors, Kelley Armstrong. Through Dutton, an imprint of Penguin, the iTunes store will feature the interactive world-building app Cainsville Files ahead of the August 20th release of the newest book, Omens.
The game and bonus content were all written by Armstrong prior to being developed for iPhone, iPod, and iPad by Inkle. This app will give Armstrong's fans a deeper insight into the town of Cainsville, the residents, and the goings on before reading the new book.
"Cainsville Files is our first app to tell a new story and an interactive story, but it's also just another example of how we're collaborating closely with authors to help them engage with readers in new ways," said John Morgan, Penguin's Director of Digital Publishing, to Good eReader.
This is just another great example of how readers can interact more fully with a novel, especially one that has yet to be released, while publishers can reach a whole new segment of consumers through the technology that is already available. To coincide with the release of Omens, Penguin has also reduced the price of the app for a limited time to $2.99.
Mercy Pilkington is a Senior Editor for Good e-Reader. She is also the CEO and founder of a hybrid publishing and consulting company.