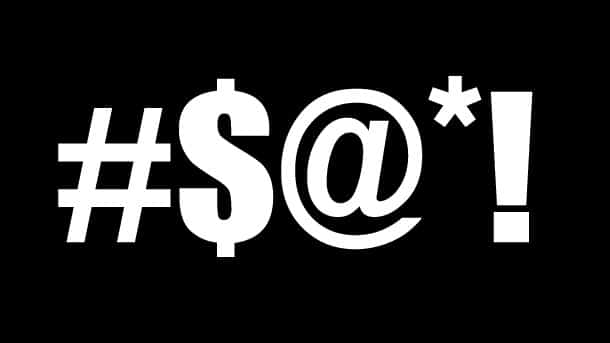 "Substitute 'damn' every time you're inclined to write 'very,'" Mark Twain famously said. "Your editor will delete it and the writing will be just as it should be."
Well, damn. Yes, back in the day, your editor–often working under strict guidelines from the publisher–would slash a red pen through anything considered outside the acceptable standards for profanity (this article isn't even tackling sex, violence, or anything else considered so far outside the norm as to be taboo). Now, according to recent findings, all bets are off and profanity is on the anti-Puritan rise.
A research paper put out recently by a handful of psychologists notes specific words that are prohibited from television that are increasingly working their way into published books. A brilliant, scathing rip-apart of said research paper, though, shows why the methodology is flawed and the criticism lobbed in the direction of the censors who are falling down on the job is unwarranted.
There's another angle to the increasingly allowable downfall of civilized society, though, and that's the ongoing discovery of author control. Years ago, self-published authors took to their own path to a publishing model often because they were tired of gatekeepers and businessmen telling them that the name "Adriana" didn't test well with focus groups or that "vampires are over." As indie authors continue to find success writing and publishing (and selling) their works, mainstream publishers are playing catch-up with the boundaries of what readers want…and apparently, what they want is a few more sh**s to give.
However, the noted increase in profanity in published works may not be doing authors any favors, especially authors of certain genres. The presence–and amount–of "swear words" in a book is still typically a deciding factor in whether a book is banned, especially from public libraries or schools.
Mercy Pilkington is a Senior Editor for Good e-Reader. She is also the CEO and founder of a hybrid publishing and consulting company.