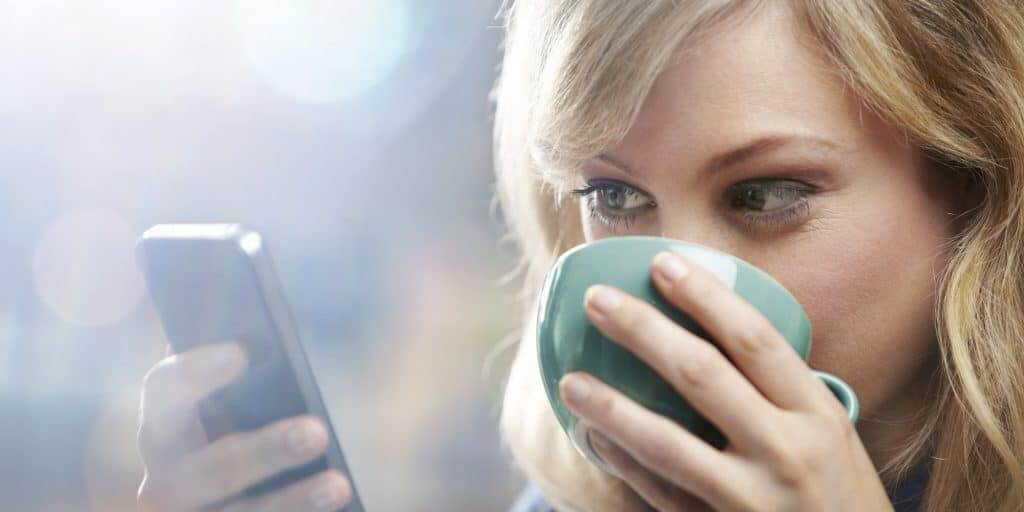 The smartphone has given rise to a record level of news consumption. The ever increasing screen size of our mobile devices allows us to read longer form articles and stay better informed.
A new Pew study finds high levels of engagement among readers of longer news articles—those that run at least 1,000 words long, by Pew's definition.
The study found that smartphone users spend more time on average with longer articles. Obviously this makes sense, since longer articles take more time to read, but the larger takeaway is that not only are people are reading the news on their phones, they're more engaged with longer articles. Pew found an average of 123 seconds of interaction time (scrolling, clicking, and presumably reading) for stories longer than 1,000 words compared with 57 seconds for stories shorter than 1,000 words.
Relatedly, Pew found engaged time steadily goes up along with word count. Stories under 250 words garner an average of 43 seconds of engagement time; whereas stories that exceed 5,000 words draw people in for a whopping 270 seconds—or four-and-a-half minutes.
Digital publishing companies rely on two different metrics to secure advertising revenue from people who advertise directly on their website, unique visitors and the amount of time that people spend on the site. A company that specializes in long form writing will have more revenue being generated than a company that writes news items that are between 200 and 600 words.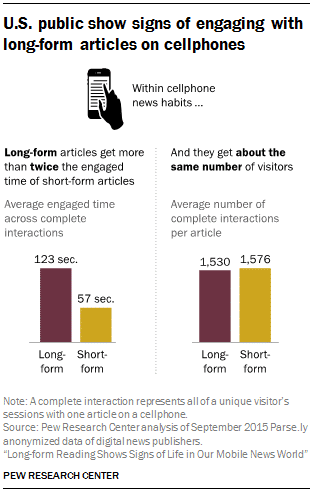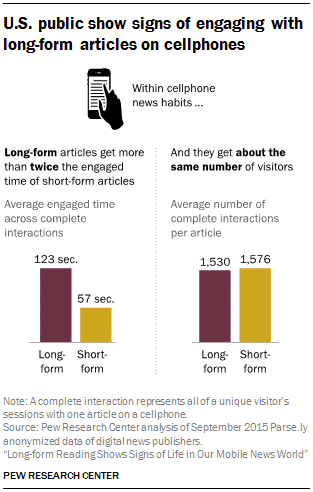 Here are the most prolific key findings of the Pew report.
Across all five distinct parts of the day, readers spend about twice the time with long-form news content on their cellphones as with short-form. For both story lengths, they spend the longest average engaged time in the late night and morning hours: 128 seconds late at night for stories 1,000 words or longer and 60 seconds for stories shorter than 1,000 words. In the morning, the figures are 126 seconds and 59 seconds, respectively.
The gap between long- and short-form engaged time also persists across all five ways visitors can arrive at news articles (such as through a link from an external website, social media, search etc.) – though those who follow a link on their phone from within the same website spend the greatest amount of time with an article. Long-form news readers spend an average of 148 seconds with a news article when arriving there from an internal link. That falls to 132 seconds for those who visit the article directly or follow an email link, 125 when arriving from an external website, 119 from search and 111 from social media. For short-form reading, the average times are lower but social media is again at the bottom. Nonetheless, social media sites drive the largest share of traffic overall – accounting for roughly 40% of cellphone visitors to both short- and long-form news.
There are some noteworthy differences in the nature of the visits coming from two of the larger social networking sites – Facebook and Twitter. While Facebook drives more traffic, Twitter tends to bring in people who spend more time with content. For longer content, users that arrive from Facebook spend an average of 107 seconds, compared with 133 seconds when they come from Twitter. The same pattern emerges with shorter content: Those arriving from Twitter spend more time with that content (58 seconds) compared with those coming from Facebook (51 seconds). Yet, for both short- and long-form content, Facebook referrals drive about eight-in-ten initial visits from social media sources, while Twitter drives about 15%.
Just a small fraction of users who access either a short- (3%) or long-form (4%) news story on their phone return to it on that phone, but those who do tend to spend more time with it than users overall. Return visitors to long-form articles spent 277 seconds with the article compared with 123 seconds for users overall. For short-form content, return visitors spent an average of 110 seconds of engaged time with the article compared with 57 seconds for users overall.
Both long- and short-form news articles tend to have a very brief life span. Fully 82% of interactions with short-form articles begin within the first two days after publication, as did 74% of long-form interactions. By day three, that rises to 89% of short-form interactions and 83% of long-form interactions.
An overwhelming majority of both long-form readers (72%) and short-form readers (79%) view just one article on a given site over the course of a month on their cellphone. Users who visited at least one long-form article are somewhat more likely to view multiple articles on their cellphone than those who initially accessed a short-form article, but the numbers for both are small: 28% and 21% respectively.
Michael Kozlowski is the Editor in Chief of Good e-Reader. He has been writing about audiobooks and e-readers for the past ten years. His articles have been picked up by major and local news sources and websites such as the CBC, CNET, Engadget, Huffington Post and the New York Times.