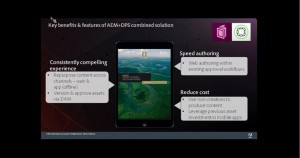 As device consumption among consumers continues to grow and more readers rely on their tablets and smartphones for digital reading, the number of available titles also continues to grow. What many consumers may not be aware of, however, is the power behind their digital magazines, newspapers, enhanced ebooks, and more: Adobe.
Known for its Digital Publishing Suite that is used by a variety of publishers to create digital content for device consumption, Adobe announced today that it's merging the capabilities of DPS with another of its popular publishing tools, the Adobe Experience Manager. This combination will allow content developers to enjoy an even more streamlined workflow with an ease of use factor that reduce the need for graphic artists to generate all of the layout.
Adobe's Lynly Schambers Lennox and Colin Fleming spoke with Good e-Reader about the implications of how this level of product integration can be a game changer for companies who are investigating or even currently utilizing Adobe's tools for content publication.
"With these two solutions combined, we're offering a really powerful multi-channel publishing solution for rapidly publishing content to mobile devices," explained Schambers Lennox. "Adobe Experience Manager allows users to organize, create, and manage the delivery creative assets from a single location and push them out to website, mobile websites, email campaigns, social sites, and of course, mobile applications using Digital Publishing Suite."
This integration will not only save time and money for the content developers as they work to reach their consumer audiences, but more importantly, companies using the combined workflow of DPS and Experience Manager can maintain a strong sense of unity within their brands and their materials. By simply moving content through both tools, that brand recognition can easily be kept consistent.
Of course, these tools and this integration of the features is not limited to digital publishers, but is easy enough to use that companies without a dedicated graphic art department can still produce eye-catching publications for their customers' email, their apps, or mobile devices. Coupled with the added integration of Adobe Analytics through the Adobe Marketing Cloud, this new offering allows content developers to measure the impact of their publications in terms of user engagement.
Mercy Pilkington is a Senior Editor for Good e-Reader. She is also the CEO and founder of a hybrid publishing and consulting company.