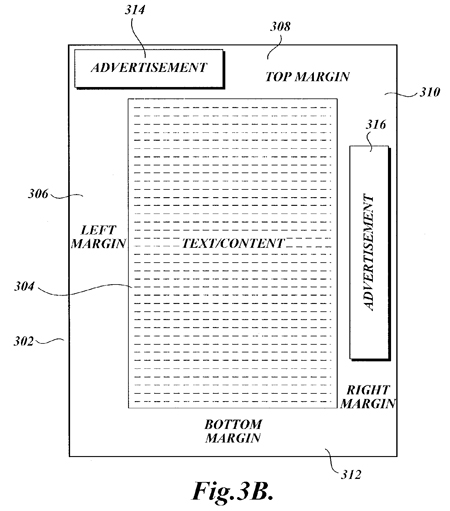 Many publishing companies are toying with the idea of building advertisements contained within books. The idea is that books can be sold at tremendously reduced costs or given away for free with the intention of making long term gains by making money on ad-clicks or people purchasing products. Would customers accept this?
Amazon obtained a patent back in 2009 that describes the steps they would take in order to put adverts within books and another for printed content. In the details the company said "Including advertising and/or related content with on-demand printed content may prove advantageous to a consumer. For example, a lower price may be offered to a consumer regarding a request for on-demand printed content if the consumer is willing to accept advertising in the printed content." The company has not used this technology yet within ebooks, but has proved that subsidizing the price of hardware with adverts being displayed is quite tantalizing.
There is no dispute that with the growth of e-readers and ebooks that rampant piracy is growing. You only have to look at some of the largest sites on the internet to see the tremendous growth. Websites such as Demonoid and the Pirate Bay have combined over 700,000 + books in their database , which is growing exponentially as hardware prices come down and the public is more aware of e-readers and tablets. I could see ebooks with embedded advertisements allowing authors and publishing entities to make money from their book being circulated on those websites.
The big advantage with advertisements being displayed within ebooks is the cost to the end user. It would encourage people to pirate less because they could get the official version for free and give the companies important data on downloads and customer demographics. Most users want to do the right thing and get the book via legitimate channels. A fair chunk of users would continue to purchase the ad-free books but the option to give it away with the ads embedded in the book might be a solid option.
The newspaper and magazine industry was built on the pillars of advertising. This is in many cases a large chunk of their financial strength comes from companies paying for ad placement in their publication. This is why, in many instances, magazine subscriptions and single issues cost less then their ebook counterparts.
Would customers accept advertising in the books they read on their e-reader, smartphone, or tablet?  I would say there is a ton of money in this idea and no companies we have heard of are pioneering this. With the emergence of EPUB 3, Kindle Format 8, and HTML5, the core technology to provide rich media is going to be evident very shortly. I could see static, dynamic, and video adverts being very appealing to many companies, especially in bestselling authors who are assured to sell hundreds of thousands of copies.