One of Amazon's most recent global marketplace initiations has been in Japan, where device manufacturers at one time found a slow adoption of digital reading. Rakuten, at one time the leading e-reader manufacturer in Japan–and now parent company of Kobo–reigned supreme, but that's quickly changing, due in large part to Amazon's model as much as to its devices.
So what is Amazon doing that the other guys like Sony and Rakuten are not? First, the competitive pricing–a tactic that certainly did not win the world's largest digital retailer and friends in the US, as evidenced by the excuses born out of the recent Department of Justice investigation and lawsuit against Apple and several publishers–that Amazon could support made e-readers finally something more of a tool than an investment. Until the Kindle made an appearance, devices were just too costly to support the everyday reader; Amazon was able to discount the devices and make up the difference in not only ebooks, but also in other products it sells from its online marketplace.
Also, Amazon finally brought Japanese consumers ebooks that they could purchase one time and read forever, unlike the original digital reading models that sprung up which only allowed ebook rentals.
But more importantly than even price or availability of content was possibly the company's brand itself. Amazon bills itself as a meet-all-needs market portal, and has an easy to use interface that consumers readily enjoy browsing. The recognizable brand and the reputation for stellar customer service all lead readers to stop by Amazon's website to browse and shop.
Of course, content isn't hurting. In the nearly one year that Amazon Japan has been open to consumers, it has grown a large catalog of Japanese-language titles, adding several thousand titles each month. This also includes access to Amazon's English-language titles, as well as the self-published titles through Kindle Direct Publishing from authors around the world.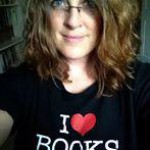 Mercy Pilkington is a Senior Editor for Good e-Reader. She is also the CEO and founder of a hybrid publishing and consulting company.