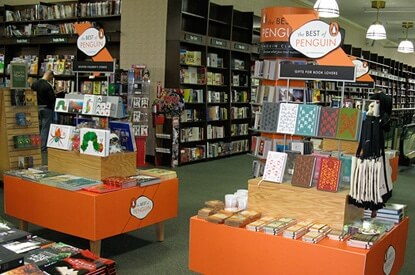 Barnes and Noble, over the course of the last six months, has been employing an in-store boutique stand devoted to Penguin. The concept was to put an emphasis on books by the publishing powerhouse. It initially started with only ten locations in the USA and is set to expand.
Currently, the boutique sections of the store encase about 200 sq-ft and sales have steadily blossomed for Penguin Book titles. The company intends on bringing the display stands to 25 additional stores in the next few months to bring more revenue into the retail locations.
The one factor that has many people up in arms is the fact B&N is adding other items such as messenger bags and other apparel. Many users are claiming that when they walk into a Barnes and Noble store they are greeted with kids toys and stuffed animals along the main walkways.