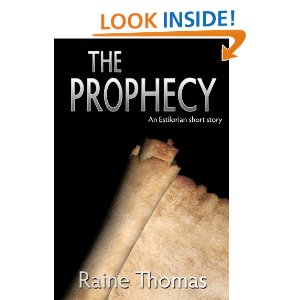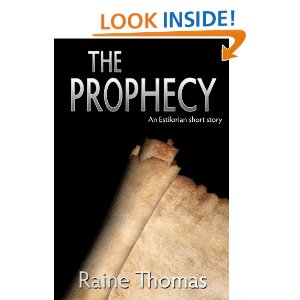 This week's GoodeReader eBook of the Week is The Prophecy by Raine Thomas, the prequel to Thomas' YA romance/fantasy bestselling Daughters of Seraqael series.
"Saraqael hadn't intended to fall in love with Kate. It shouldn't have even been possible. His kind didn't experience emotion, and they certainly weren't supposed to become attached to humans. When he discovers that Kate's dying and there's nothing he or her human doctors can do for her, Saraqael realizes how deep his feelings for her run. And he understands just how far he's willing to go to save her. He vows to search until he finds a way to save her life. With the help of his best friend, Quincy, he embarks on a quest spanning the Estilorian plane…a quest that will forever change the future of his kind."
Thomas has written The Prophecy to provide the crucial inviting back story to the three titles in her Daughters of Seaqael series, which includes Becoming, Central, and Foretold.
"The books are a result of over a year of hard effort. After many months of outlining, writing and editing, I attempted (and failed) to catch the interest of a literary agent through the extensive and often painful query process. I eventually found myself reading more and more articles about successful indie authors, and decided to take the plunge. I couldn't be happier."
"I'll admit that I could have been better prepared before publishing the books. I mean, who expects to sell anything when they only have about a hundred Twitter followers and a brand-new author page on Facebook, and considers their social media platform ready? Somehow, despite tremendous odds, I still managed to build a successful author brand. As of the time of this post, I've sold more than 10,000 books that have all maintained high reviews. I've greatly expanded my social media platform and have connected with many amazing writers and other professionals in the writing community. It's been wild and crazy, but I've loved every minute of it."
To receive your free copy of The Prophecy, click HERE.
Mercy Pilkington is a Senior Editor for Good e-Reader. She is also the CEO and founder of a hybrid publishing and consulting company.