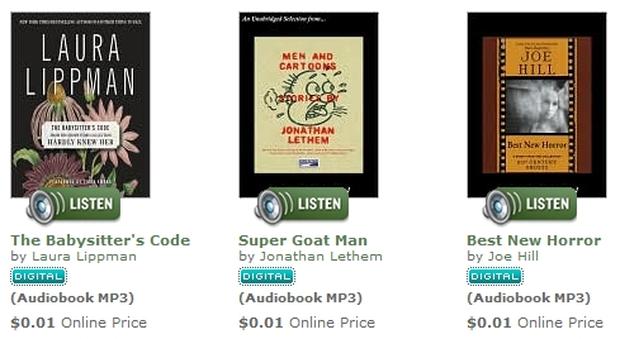 Barnes and Noble recently sent out an email to their customers letting them know they have until June 30th before their audiobooks are disabled. The Nation's largest bookseller has confirmed that they are suspending their relationship with Overdrive, who provided their audio content. Apparently B&N is not getting out of the audiobook business altogether, and instead is charting a new strategy.
In an exclusive statement to Good e-Reader, Mary Ellen Keating said "Barnes & Noble is fully committed to the physical audio book business. We were not satisfied that the digital audio book customer experience met with our high standards, which is why we recently disabled it. And, we have plans to provide customers with a more well integrated digital audio experience at a future date yet to be determined. We apologize to our customers for the inconvenience and ask for their patience."
Barnes and Noble is primarily ditching their current audiobook partner because when customers buy digital, they have to use the Overdrive Media Console App to listen. This encourages customers to buy into a completely different ecosystem and apparently B&N realizes there is no value in sending people to the competition.
It will be very interesting to see what Barnes and Noble intends to do with their audiobook ambitions. Overall, the audiobook industry is a growing global business, currently worth around $1.6 billion dollars and that figure should climb further. The main reason? Audio book producers have been increasing their output. 13,255 titles came out in 2012, up from 4,602 in 2009.
The most dominant content distribution platform for audiobooks currently is Amazon owned Audible. This company has the highest market penetration and has seen a 33% increase in sales in 2012. They have created over 26,000 audiobooks and adding close to 1,000 titles a month. Most of their success derives from their new technologies that allow readers a myriad of options. If you purchase both the audiobook and eBook you can have the book professionally narrated to you, as you are reading. Another cool option is the ability to read a few chapters on your Kindle and pick up exactly where you left off on the audio edition. This type of synergy is fairly compelling for people who read at night and do things during the day. Matthew Thornton of Audible commented – "We're seeing heavy growth among younger listeners, people in and getting out of college who are part of the emerging app culture."