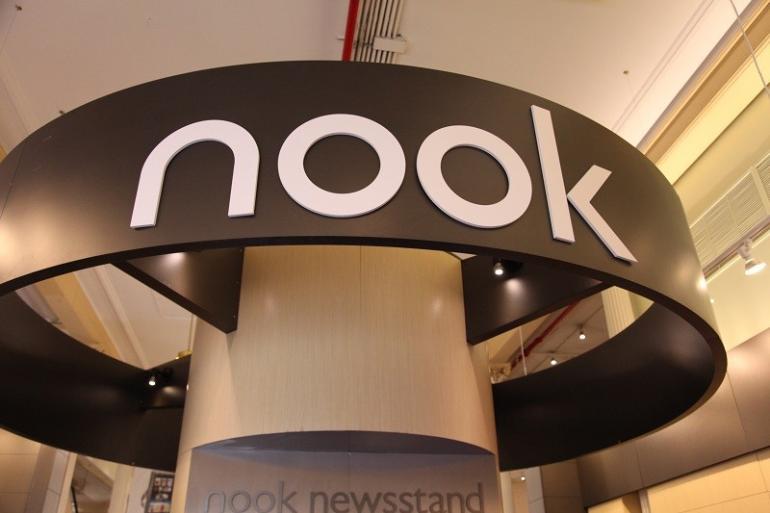 Barnes and Noble has quietly been building a large catalog of digital newspapers and magazines for their Nook line of e-readers and tablets. In order to glean more market share, the largest bookseller in the US has just partnered with Overdrive to make available content from the Nook Newsstand to libraries.
NOOK Newsstand features the largest digital collection of the top 100 bestselling U.S. magazines, available for both digital subscriptions and single copy sales, and a vast collection of newspapers and magazines from around the world. A huge selection of that content will be available for readers to check out for free from their local library. The new partnership between OverDrive and NOOK Newsstand will enable readers to access popular magazines and newspapers in the same manner, and on the same website, as they discover and borrow OverDrive eBooks, audiobooks and streaming video. Libraries will be able to purchase concurrent access to all selected publications.
Library patrons can check out these digital magazines and newspapers with a valid library card and read them through their NOOK account via a NOOK tablet device or Free NOOK Reading App available for a multitude of smartphones and tablets. Customers who download NOOK Newsstand content through their local library always have access to the free in-store support and expertise provided by the booksellers at Barnes & Noble's more than 650 bookstores across the U.S.
"NOOK Newsstand is one of the leading providers of digital magazines and newspapers and this new partnership with OverDrive is another example of our commitment to delivering great content to all readers," said Jonathan Shar, Vice President and General Manager of Emerging Digital Content at NOOK Media LLC. "OverDrive is the foremost supplier of eBooks to libraries and we are thrilled to partner with them to offer library patrons the opportunity to access our award-winning content and reading technology."
"The new digital service for periodicals will provide readers the ability to read digital magazines and newspapers with a best-in-class user experience," said David Burleigh, Director of Marketing & Communication at OverDrive. "Your library card, a NOOK Account, and an Internet connection are all you need to enjoy visually stunning magazines and familiar newspaper layouts on almost all tablets and smartphones."