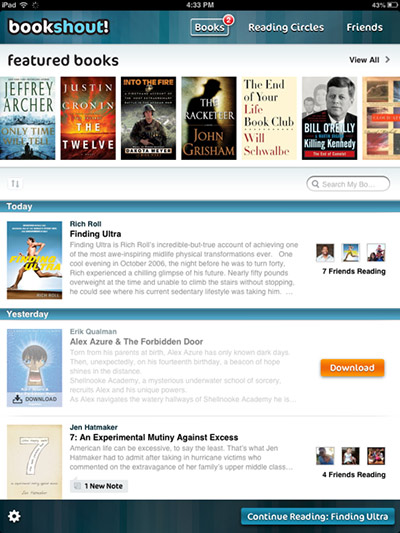 BookShout, the ebook distribution platform that has seen a great deal of recent success in partnering with publishers to produce sales dashboards and seamless, device-agnostic file integration for ebook consumers, announced at today's DBW event that several industry veterans from across major publishers have joined BookShout's team for its new print distribution initiative.
According to a release, BookShout is joining forces with Ingram Content Group's existing ability to drop-ship print titles for bulk orders of print titles, a feature that publishers and authors alike can benefit from.
The new additions to the New York-based team include Tim Murray, formerly of Simon & Schuster, as the new VP of Sales; Timothy Cheng, formerly of Perseus Book Group, as the Director of Sales; and Libby Jordan, formerly of HarperCollins, as VP of Marketing and Business Development.
"We are honored to work with Ingram, numerous top publishers, and bestselling and up-and-coming authors," said Jason Illian, CEO and founder of BookShout, of the new initiative. "We believe our technology can help all parties create new sales channels while building audience and generating more revenue."
BookShout already has existing collaboration in place with over 4,500 publishers, and its iOS and Android apps, HTML5 mobile and web readers help ensure that consumers can access digital titles in virtually any format for e-reading. This print partnership will secure access for consumers who prefer physical books, and allow rights holders to order large quantities of their content for a variety of purposes.
[ad#After Post]
Mercy Pilkington is a Senior Editor for Good e-Reader. She is also the CEO and founder of a hybrid publishing and consulting company.