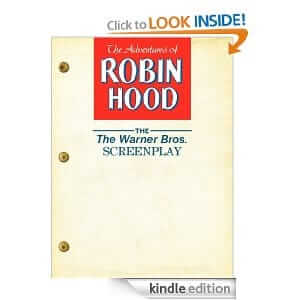 Warner Bros. Digital Ditribution back in April released the first eBooks in their Inside the Script series.  The company has now released two new eBooks that aren't apart of this series but continues in the spirit of it. The followup titles, which include;  Robin Hood and "Singin' in the Rain" in raw form.
These eBooks include the complete shooting script, authentically formatted and re-sizable for comfortable reading on mobile or computer screens, along with images of the original typed script pages for direct comparison.
"The Adventures of Robin Hood: The Warner Bros. Screenplay"  presents the complete, page-accurate screenplay in text and image formats, giving film fans two ways to enjoy the script.  Film fans continue to marvel at Errol Flynn's Robin Hood as he battles arch villains Basil Rathbone and Claude Rains while vying for the hand of Maid Marian (Olivia de Havilland) in what historians generally consider the definitive classic Hollywood swashbuckler.
"Singin' in the Rain: The MGM Screenplay" also features page-accurate screenplay in text and image formats as well for the film that consistently tops lists as the greatest movie musical of all time.  Gene Kelly, Donald O' Connor and Debbie Reynolds star in this splashy story about Hollywood around the advent of "talkies."