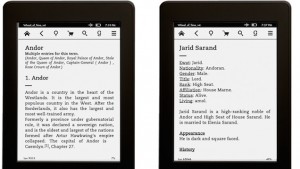 Fantasy and science-fiction e-books are typically filled with verbiage that normal dictionary is unable to handle. The Song of Fire and Neuromancer are rife with people, places and things that don't exist in the real world and there is now a definitive solution, custom dictionaries via The Fictionary.
The Fictionary is a new service that bundles custom dictionaries on e-books. For example, look up "the one ring" in The Lord Rings and you'll get a definition from the book, not of just a ring. Ditto with the word Power-Wrought from Wheel of Time.
The custom dictionaries go beyond simple definitions and has support for rich media. Indie authors can add maps, graphs and images to their dictionaries. On some devices images and maps will display in a popup, in others when entry is fully viewed.
Fictionaries work on all Kindle e-Readers, iOS Kindle Apps, and some Android ePub apps such as Moon+ Reader. Right now it does not work on the Kindle Fire or Kindle App for Android.