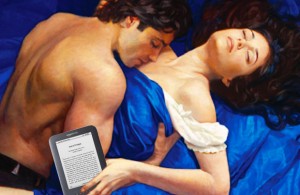 The single biggest advantage that digital publishing has brought to DIY authors may be the enormity of control over the content. So many conventions have been stripped away. Word count restrictions have been overtaken by ebook shorts and long-form digital journalism like Kindle Singles and Atavist. Concerns over the marketability of certain themes or topics have been removed, such as the wealth of romance, paranormal romance, and erotica titles available. Even the lines between genres have been blurred, largely in part by the self-published authors who met their audiences' need for new ideas by introducing the New Adult genre. Perhaps the most important publishing restriction that has been broken down thanks to digital publishing is the time to market of a new title; where a book once took as many as two years to see the shelves of a book store, authors are still able to turn out quality material in a matter of weeks or months, reaching their readers' devices in far less time than publishing once took.
Gigi Van Eyck, the pen name of an otherwise established indie author, released a title this week that was nearly the antithesis of everything that publishing once was. The time from writing to publication might seem alarmingly short to some critics–a matter of almost three weeks–but the author retained control over the publication date to coincide with the timely holiday theme of the book, as it takes place on New Year's Eve. Additionally, the length of Van Eyck's title, coming in at just under 9,000 words, isn't something that ever could have been published as a stand alone title; it's too long for many short story anthologies or literary journals, too short for publication as a book. Adding to the self-publishing fire is the fact that it is a paranormal romance that doesn't exactly meet the traditional definitions of paranormal or romance. Finally, it's a major departure from what Van Eyck normally writers, which is young adult fiction that contains themes that even the author herself considers to be fairly moral.
"This was a complete experiment," Van Eyck told GoodeReader. "I got to stretch myself as a writer with an entirely new style of writing, without having to worry about the fact that my publisher doesn't put out titles like these. I also didn't have to write the story and develop the characters while thinking in the back of my mind, 'It's not long enough to be a book,' or think, 'No one is going to pay bookstore prices for such a short novella.' Digital publishing lets me just take on a whole new project and put it out there for readers without feeling trapped."
While the restriction on word counts can be frustrating for authors, more writers find themselves experimenting with short stories, novellettes, and novellas now that the audiences for different types of writing are able to access more of these works through digital publishing. Cathy Perkins, in an article on this subject for the blog JustRomanticSuspense.com, explained the allure of both "long" and "short" works, and how e-reading plays a role in it.
"Novellas fill that gray area (whatever shade you want it to be) between short story and novel. While I usually write complex subplots, with this novella, I stripped those out to focus on the central story and theme," blogged Perkins about the creation of her novella, Honor Code. "The layers of complexity in a novella must serve multiple tasks, both driving the story forward and defining the characters…Novellas are great on an ereader, perfect for any time you want a quick read."
There were some considerations that Van Eyck did have to navigate, though, such as an online presence and the various ways that her prior social media connections know her, namely for fiction written specifically for an audience that is not intended to read her latest work.
"I just felt like I had this entirely different, fun, new story in me, but it's certainly not for my previous readers. As a work that is decidedly romance, it contains adult content and explicit scenes. It is definitely intended for a whole new audience of readers, so it was important to me that I create a new persona surrounding this title. That meant creating a new Facebook page and Twitter profile for Gigi Van Eyck. It's not about being ashamed of writing steamy paranormal romance, it's about respecting that the readers who know me for my young adult fiction shouldn't accidentally come across a new book and think it's age-appropriate for younger readers."
Van Eyck is giving away copies of her new title, Haunted Holidays: Broken Resolutions, through the January 6th by clicking HERE and entering the coupon code US46U at checkout.
Mercy Pilkington is a Senior Editor for Good e-Reader. She is also the CEO and founder of a hybrid publishing and consulting company.