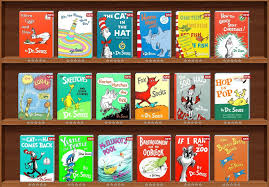 Random House Children's Books, the publisher of multi-award winning and best-selling children's author Dr. Seuss' entire catalog of children's content, announced today that it would begin releasing most of the author's forty-four books as ebooks for young readers, starting with fifteen titles near the end of this month. The ebooks will keep the original layout and beloved illustrations, but will also incorporate a read-aloud narration.
"Random House Children's Books and Dr. Seuss Enterprises have been publishing partners for decades," said Barbara Marcus, President & Publisher, Random House Children's Books, in a press release. "I am so pleased to announce the start of an exciting new chapter in our long and thriving relationship, as we embark on expanding the Dr. Seuss reading experience together with ebooks," says Marcus. "We are delighted that today's parents, their children, and educators can now add Dr. Seuss's classics to their digital bookshelves, joining the cherished hardcovers that we have all grown up with."
The order of release includes:
September 24 – The Cat in the Hat; Green Eggs and Ham; Oh, the Places You'll Go!; Horton Hears a Who!; One Fish Two Fish Red Fish Blue Fish; Dr. Seuss's ABC; Fox in Socks; Hop on Pop; Mr. Brown Can Moo! Can You?; Oh, the Thinks You Can Think!; The Cat in the Hat Comes Back; The Foot Book; There's a Wocket in My Pocket!; The 500 Hats of Bartholomew Cubbins; and The Lorax.
October 22 – I Can Read With My Eyes Shut!; Marvin K. Mooney Will You Please Go Now!; The Cat's Quizzer; The Shape of Me and Other Stuff; Dr. Seuss's Sleep Book; Happy Birthday to You!; Horton Hatches the Egg; How the Grinch Stole Christmas!; The Bippolo Seed and Other Lost Stories; The Sneetches and Other Stories; Yertle the Turtle and Other Stories; And to Think That I Saw It on Mulberry Street; I Can Lick 30 Tigers Today! and Other Stories; If I Ran the Circus; If I Ran the Zoo; On Beyond Zebra!; The King's Stilts; and Thidwick the Big-Hearted Moose.
November 5 – Oh Say Can You Say?; Bartholomew and the Oobleck; Did I Ever Tell You How Lucky You Are?; Hunches in Bunches; I Had Trouble in Getting to Solla Sollew; McElligot's Pool; The Butter Battle Book; and You're Only Old Once!
Many of Dr. Seuss' titles have also been rendered previously as app books by OceanHouse Media.
Mercy Pilkington is a Senior Editor for Good e-Reader. She is also the CEO and founder of a hybrid publishing and consulting company.