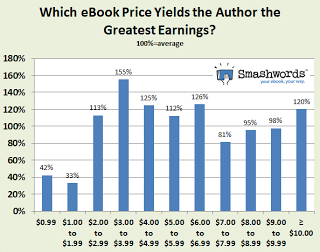 Once publishers began to truly embrace ebooks as a viable business model for their content, the next great debate became how much to price them. Numerous studies and surveys have been conducted that look for consumer behavior where price is concerned, and a few logical guidelines have come about as a result.
One thing that still riles both publishers and authors is the concept of free ebooks. When consumers think of free pricing, there is the justified concern that public perception will lean towards a negative view. After all, how good can it be if the author didn't want money for it, right?
But a growing number of people are taking the opposite view when it comes to pricing. Authors like Hugh Howey have long been proponents of giving readers free content to read as a way to build a loyal following, citing the behavior that readers will pay for future content from a writer whose work they enjoyed. Studies by Kobo have demonstrated that readers are more likely to pay for a book or its sequel if they read content first by borrowing it through ebook lending. Even platforms like Amazon's exclusive KDP Select lure authors with the ability to promote their books at free pricing for a limited number of days.
But in an interesting blog post on a crucial decision to not include its authors' novels in the voter packs for this year's Hugo awards, Orbit (an imprint of Little, Brown and Co) explained that it wasn't good business to require their authors to give away their content for free.
"We are of course very much in favour of initiatives that help readers to engage with important awards, and we are always looking for new ways to help readers discover new authors," publisher Tim Holman wrote. "However, in the case of the voter packets, authors and rights holders are increasingly feeling that if their work is not included in the packet it will be at a disadvantage in the awards. It's difficult for anyone to know for certain whether this is the case, but either way we don't feel that authors and rights holders should feel under pressure to make their work available for free. There are a lot of different attitudes to the idea of giving work away for free, but we hope most people would agree that writers and rights holders should be able to make their own choice, without feeling that their decision might have negative consequences."
Interestingly, Orbit made that decision for three of their authors whose works were nominated for a Hugo this year, and the authors seem to have taken issue with the decision.
While some of the stigma of self-publishing has thankfully been erased, there is still a very unfortunate stigma surrounding pricing. An indie author who opts to sell an ebook at traditional industry prices may face backlash from consumers who laugh at the nerve of comparing one's work to Big Five titles, while an NYT bestselling author who is published by a major publishing house has no ability to say that his work should be free or cheaper. Now that publishing perceptions are changing in a variety of ways, hopefully pricing and royalties attitudes will be the next shift.
Mercy Pilkington is a Senior Editor for Good e-Reader. She is also the CEO and founder of a hybrid publishing and consulting company.