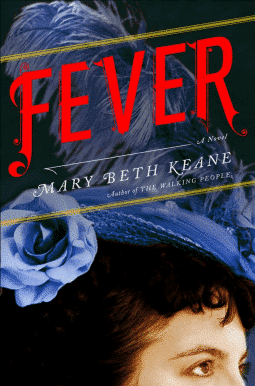 Verdict: 5 Stars
One of the genres that is gaining popularity and attention is the fictionalized biography, a novel retelling of the information that history does actually remember about notable people and events. In Fever (Simon & Schuster), Mary Beth Keane has done a heart-wrenching job of completely humanizing one of the names that history doesn't always remember fondly: Typhoid Mary.
Mary Mallon, an Irish immigrant who worked her way up through domestic service to the coveted position of cook to some of the wealthier families in New York at that time, would otherwise only be remembered for her unique contribution to medical history in that doctors decided she was an "asymptomatic carrier" of typhoid and used that assumption as grounds to keep her imprisoned on North Brother Island for three years. After lengthy court battles and daily medical tests, she earned her freedom under the condition that she never work as a cook again. History remembers her thwarting that ruling and returning to kitchen work, thereby causing the sickness and death of several more victims.
Keane, however, paints a far more sympathetic picture of a woman who never set out to harm anyone, but rather lived in denial and worked to improve her circumstances and to help those around her. The Mary presented in Fever is at first indignant over the accusations and invasions of her physical privacy, but when she returns to North Brother to live out the rest of her life after violating the court's order, she goes as a changed woman, almost remorseful and almost haunted by the senseless death that followed in her wake.
One of the difficult parts of writing fictionalized historical works is that savvy readers will already know how the story ends (spoiler alert: Titanic hits an iceberg, for example.), so the author's real work is in creating a dynamic world that lets the reader forget the ending long enough to want to know how it turns out. Keane drew upon volumes of actual research on Typhoid Mary and the time period she lived in to create a setting in the new bustling New York that draws in readers who think they already know the characters too well.
Fever is available now for pre-order and will be available this spring from Amazon, Barnes and Noble, and more.
Mercy Pilkington is a Senior Editor for Good e-Reader. She is also the CEO and founder of a hybrid publishing and consulting company.