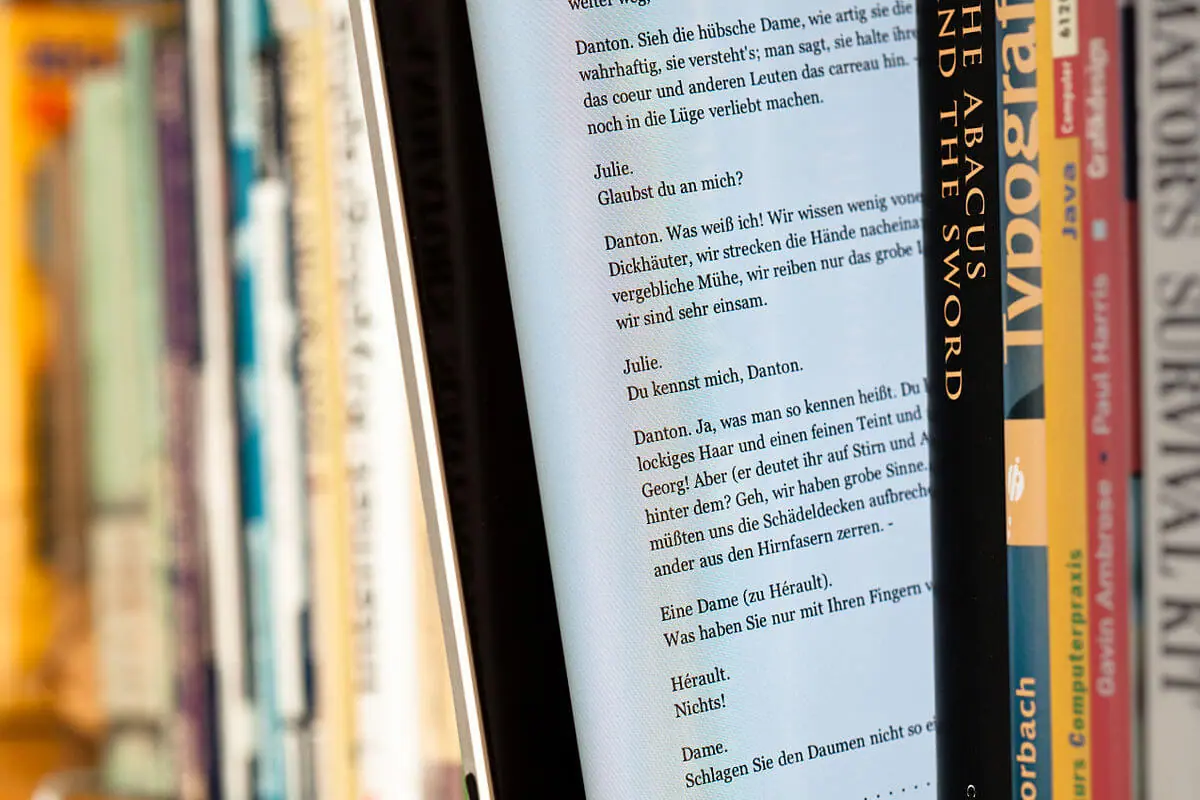 Despite the common e-book myths and backlashes, e-books have become the new face of famous textbooks and titles for bibliophiles. Its popularity shows a gradual increase, with a projected growth of 1.12 billion users by 2027. Meanwhile, its revenue is likely to show an annual growth rate of 2.01%. At such a pace, its market volume might stand at $15.9 billion USD by 2027.
When we talk about e-books, the first name that pops up in our minds is Amazon Kindle. The e-reader has millions of active users with instant access to a huge online library of titles. Its feasible size and massive storage have made it a travel companion too. However, e-book history is certainly beyond Kindle. The manufacturers had to climb a tough hill in the 90s to get the edge among traditional book lovers:
Enciclopedia Mecánica
In 1949, Spanish teacher Ángela Ruiz Robles came up with this brilliant idea of Enciclopedia Mecánica that mirrored the concept of e-books today. If you had looked at her creation closely, it wouldn't have given you much of an e-book vibe. However, it had the same goals as that of Kindle and other e-book devices.
The structure of this arrangement was more like a machine with spindles and information that you could access by scrolling. Additionally, it had interesting features like light source and zooming, which was quite unique at that time.
The best thing about Ruiz's invention was that it was designed for children so they could learn at home. It was also convenient for the publishers as they could print the books on scrolls directly instead of investing a fortune in their printing. Despite the incredible idea, Enciclopedia Mecánica didn't gain much recognition, probably due to a lack of financial support.
Sony's Data Discman and Bookman
As time went by, technology dominated, and so did the new inventions. Later, Sony came up with the Data Discman, which looked like an early entry to the e-books. The device was chunky and small with LCD displays. Not only was the display a little hard to read, but the limited library and non-standard CDs weren't much of a help. Yet, it cost a whopping $400. Although it was expensive, Data Discman was a hit in Japan.
Sony did launch their Bookman later with full-sized discs and DOS compatibility, but it didn't do well due to higher cost. With time, the industry saw a rising trend of other e-book readers as well, like NuvoMedia Rocket eBook, Franklin Bookman, and SoftBook Reader. This was long before Amazon's Kindle came into play.
Formation of E Ink
E-books came into the limelight in the early 1970s after getting inspired by the Alto computer. That's when Gyricon, the world's first electronic paper technology, was born. However, the idea wasn't considered much by the manufacturers. Nick Sheridon, the inventor of Gyricon, mentioned how he thought e-books' popularity would take a toll in 1989. And he was right. E-books gained wide recognition by the late 90s and early 2000s.
In fact, Gyricon became the primary idea behind several e-books/e-readers, including the e-ink. E Ink founder J.D. Albert and his friend Barrett Comiskey made some improvements to the approach of Gyricon and eventually created the high-contrast and easy-to-read technology.
While the company did struggle with the colors initially, no one (at that time) came close to eInk for the authentic e-book experience.
Since then, there has been no looking back for e-books. As technology became more progressive, e-books got more feature-rich and advanced. Today you can find e-readers like Amazon Kindle in most households easily..
Navkiran Dhaliwal is a seasoned content writer with 10+ years of experience. When she's not writing, she can be found cooking up a storm or spending time with her dog, Rain.