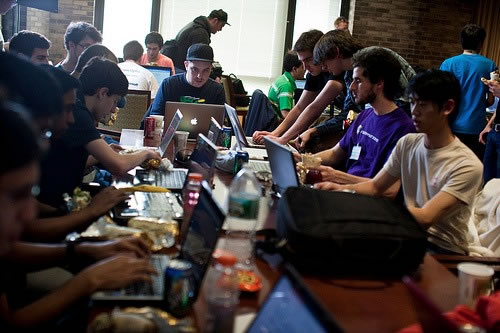 The first ever digital publishing hackathon took place over the weekend at The Alley in New York. Organized by Perseus Books Group and Librify, the event transpired over 32 consecutive hours and was attended by 200 people. Over 30 different teams sought to develop new ideas for digital book discovery.
"It was exciting to watch 200 people come together at one time in one space and grapple with the challenge of digital book discovery," said Rick Joyce, CMO of Perseus and one of the judges. "Not only were fascinating solutions developed, but there was a lot for a publishing person to learn about the ways content is connected and discovered digitally from these talented designers and coders."
The finalists have now been selected and the final award will be announced at Book Expo America. All of the selected entrants will also receive coaching from publishing and technology mentors and have 10 days to work on their project. We now have a copy of the finalists that have participated in the hackathon.
•Library Integration Challenge from NYPL – $1,000 was awarded to Visibrary (Sara Michener, Carrie Segal, Alessandra Nova, Iv Segal) for the best library discovery project or the best integration of library data.
•Children's / Literacy Challenge from NYPL – $500 was awarded to the Evoke team (listed above) for the best project for children and adults that either (a) enables book discovery, (b) encourages a love of reading, or (c) facilitates literacy.
•Avalon Travel Discovery Challenge – $500 was awarded to BookCity (listed above) for the project that best promotes discovery books related to travel.
•Manuscript to Metadata Challenge from PublicAffairs – $500 was awarded to Publy.io (Megha Gulati, Rajeev Gulati) for the best approach to improving metadata from the manuscript.
•Pearson API Challenge – $250 was awarded to Evoke for the best use of either (or both) of Pearson's APIs.