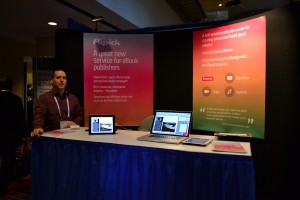 Trade events such as the Frankfurt Book Fair showcase not only the mainstays of the publishing industry, but also offer a launching pad for startups to demonstrate what they do. Part of the interest in these events stems from watching the growth and development of these companies, and seeing how they evolve to fit a new and constantly changing concept like digital publishing. One such company is Flipick, who first spoke with Good e-Reader at the February 2013 Tools of Change conference. They sat down again this week to talk about their evolution as a publishing solution.
"Since February, we've slightly revised what we do. We came out of beta in June or July, and what we're now doing is we've changed our website and we've changed it from a self-service solution to a full-service solution. Whereas before for the conversion side the users used to download the plug-ins, do everything themselves, upload the book, a lot of the time there were small issues with the book and the users didn't know what to do, so they left it.
"What we're doing now, is basically we're not giving the option to try to do the conversion online. You can still use the plug-ins to do all your widgets, do all your interactivity, however you then send us the packaged design file. We will still use the same technology to do all the conversion. And as part of the package, we add two hours of Q&A. So we will actually look at your original book and look at the final output, and make any small adjustments to make it better."
One of the immediate concerns from February was the limitations of file types that Flipick could accept, as well as the function of the company which basically required publishers to have their own in-house design teams to create the files for Flipick. Now, that conversion and development is in Flipick's hands, leaving the content creators to simply hand over their content to the design team for further development.
"One thing we now do is offer a design service called straight from print for a tablet. What we now do is the design work, which we call Designed for Tablets (DFT) and Enhanced for Tablets (EFT). Which basically means we redesign your book for one of the tablets devices. No more zooming, it's more immersive, it's designed to work and be user-friendly. The difference for DFT and EFT is that the EFT has more interactivity, video, audio, hotspots, and pop-ups."
Now, content creators send their material to Flipick's design team in either InDesign, Quark, or PDF, and the production team creates the final product based on the design team's specifications. Flipick is also offering a complete publishing solution with a fully active online ebook store, which launched this week, as well as an aggregator store which mainly sells in the education markets in India.
Mercy Pilkington is a Senior Editor for Good e-Reader. She is also the CEO and founder of a hybrid publishing and consulting company.