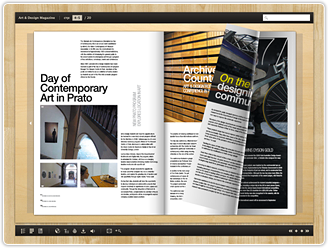 FlippingBook, an international platform for ebook publication and distribution, announced last week its update that allows readers to consume content offline, even while keeping its strict anti-piracy controls in place. The platform, based on a somewhat pricey but valued software, incorporates a real-time page turning view as users read. This page turning is actually important to the process, because ordinarily the book only downloads a few pages at a time; as users read the pages and turn, the next set of pages begins the download process. The goal is a seamless reading experience while still offering an instantaneous performance rather than waiting for a PDF to open and become useable.
While Flipping Book is aimed at more than just the ebook reading community, offering digital catalogs, corporate presentation creation, digital business brochures, and magazines, the ability to consume previously published material while offline can actually be crucial to the success of FlippingBook's customers. While ebook consumers are accustomed to having a choice between downloaded or cloud-based reading, businesses who utilize Flipping Book's software and platform to create corporate documents, such as a product brochure to take on sales calls where internet access may not be available or may be slowed, may be more likely to jump on the new capability.
"FlippingBook now supports publications hosted on our cloud, which means that most of the users with Professional and Corporate versions can manage subscriptions for the readers," explained Flipping Book's representative Elena Druzhinina in an interview with GoodEReader. "On the cloud, it is possible to create a list of the readers who will receive a special invitation to view the available publications, meaning no one else will be able to view the books. The readers can then download the books or magazines to their iPads and enjoy reading it later."
A free trial of the software is available on the FlippingBook website, with entry versions starting at $299.
Mercy Pilkington is a Senior Editor for Good e-Reader. She is also the CEO and founder of a hybrid publishing and consulting company.