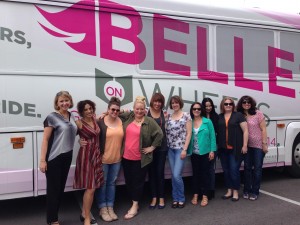 Gallery Books' seven-city Belles on Wheels book tour kicked off on Friday, and already the romance-branded bus carrying ten of the imprint's bestselling romance authors to bookstores across the Southeast has met up with fans in five different cities, allowing readers to meet as many as ten of their favorite writers for autographs, photos, and questions. Good e-Reader met up with the tour along the way and spoke with the authors, as well as with Kristen Dwyer from Simon&Schuster, about how an opportunity like this one helps both readers and authors.
The tour includes authors Emma Chase, Alice Clayton, Kresley Cole, Kyra Davis, Lisa Renee Jones, Christina Lauren, Jennifer Probst, S.C. Stephens, and Kristen Proby.
"A tour like this introduces us to new readers," explained Jennifer Probst, author of the Searching For… series. "Kresley (Cole) might have a lot of fans who haven't heard of us yet, and vice versa."
One of the interesting aspects of a "whirlwind" tour such as this one is the authors spend a lot of time interacting with each other as they travel from city to city, allowing them the opportunity to recharge and spend time immersed in an atmosphere where others understand the challenges of being a bestselling author.
"And we get to meet new friends," explained Kresley Cole, New York Times #1 bestselling author of series in erotica, romance, and young adult paranormal. "And they're such cool people, too."
Too often, the world of publishing means authors are singular entities, especially in terms of self-publishing and hybrid publishing, in which they feel somewhat isolated in terms of genuine interaction with readers and fellow authors. Events like book signings and tours and writing conventions can be some of the only times that authors get to enjoy the actual social aspect to their work.
"I was on my own little solitary island," said Kyra Davis, author of Just One Night, as well as other romance and mystery titles, of the opportunity to join with other authors for a mass event to promote each others' work.
Organized events like this one can be costly and logistically difficult to prepare for, but Dwyer spoke about the benefits of collaborating on a large-scale event like this, which can even have implications for indie authors who wish to pool their resources in order to promote their works.
"This is a way for our authors to meet each other and meet their readers, and a lot of these conferences help that same way," Dwyer said. While a major conference can expect to have attendance in the thousands, though, a smaller scale event like a book signing or book tour gives authors a chance to connect in a little more personal way with their fans.
In conjunction with the Belles on Wheels tour, which will end in New Orleans on May 14th at the RT Booklovers Convention, Gallery Books is hosting an Instagram contest. "One of the great things we're doing is getting all of the social media on board. People can use the #BellesonWheels hashtag to post to Instagram their favorite road trip reads, and we have a sweepstakes at the end for a grab bag of goodies we've collected at every stop. We're also hosting a Twitter chat and getting Facebook activity going, all around the book tour."
Mercy Pilkington is a Senior Editor for Good e-Reader. She is also the CEO and founder of a hybrid publishing and consulting company.