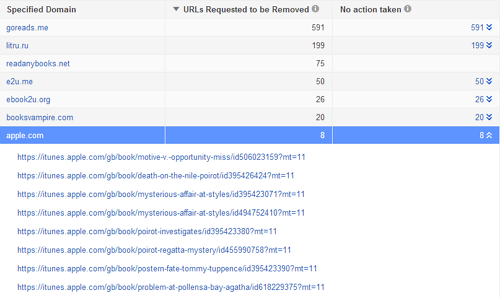 HarperCollins is one of the largest trade publishers in the world and they are not happy with the amount of people pirating their eBooks. This has resulted in them hiring anti-piracy specialises Digimarc to petition google to remove over 1,000 file sharing and websites hosting the files. One of the consequences of this event was hitting Apple with a slew of takedown requests.
In 2010 and 34 years after her death, HarperCollins secured a deal to become Agatha Christie's global publisher. The deal, a lucrative seven-digit amount covering 80 books, was signed on what would have been Christie's 120th birthday. HarperCollins now generates over a million dollars each year on all of the books.
HarperCollins wants to put the axe to file sharing, websites, torrent sites and seemingly legitimate sales channels to put the kibosh on the authors works. Digimarc submitted a claim to Google to remove over 1,000 links from their search engine to Christie's books. Over 9 of these books were directed to Apple iBooks, where Harpercollins is the publisher.
Due to so many news outlets reporting on this story, Digimarc Guardian released the following statement "recently issued requests to Google to remove a number of URLs from their search index related to Agatha Christie titles being sold without license on iTunes in the United Kingdom. Unfortunately, due to a technical error, these 123 total URLs included some links related to valid iTunes content. We regret the error and have addressed the issue."
This story is fairly amusing because it shows you the zealous nature of publishers and the eBook piracy outfits they sub-contract all of the grunt work to. In many cases, as we see here, there are unintentional consequences.