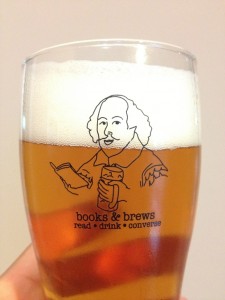 Industry watchers and experts have been wrestling with the plight of the indie bookstore. For that matter, the big-box bookstores are in danger, too. While Good e-Reader has proposed a number of solutions to help bookstores adapt to the current climate of online retail shopping and digital publishing, one bookstore in Indianapolis has launched with its own inherent customer draw.
Alcohol.
The newly opening Books&Brews seeks to combine the best of both worlds, books and the camaraderie of your favorite neighborhood bar. Sadly, bookstores and restaurants are possibly two of the highest-risk ventures for a private owner to take on, but founder Jason Wuerfel and the support of a Kickstarter campaign raised enough capital to launch the concept, which is set to open today.
But unlike typical incentives for Kickstarter backers, Wuerfel took the gamble a step farther. As the Books&Brew is also a brewery and will make its beers on site, those backers who pledged $500 or more were given the rare opportunity to be a part of the brewing and naming process.
As part of the founder's dedication to the local economy and craftsmanship, the beer isn't the only thing handmade at Books&Brews. All of the tables, chairs, bookshelves, and even the bar were handmade from locally purchased materials, allowing Wuerful to funnel backers' donations into the overall startup operation. Even the barware and menu ingredients are sourced from local businesses.
Wuerful's plans for the business include a used book section, a local authors section, book signings and readings, and even a parents' section where their children can play while the parents browse and relax, but the real draw may be in the novelty of the concept and the avid adherence to the increasingly popular "localism" movement. As he stated on his campaign, "Where else can you trade used books for craft beer?"
Mercy Pilkington is a Senior Editor for Good e-Reader. She is also the CEO and founder of a hybrid publishing and consulting company.